As creators and sponsors of the annual Ann Head Literary Prize for Short Story Fiction, the family of Ann Head is pleased to announce the winner of the third annual award.
"The Time for Perfection," a short story by Christine Conte, a rising senior at Beaufort High School, has been selected as winner of the 2022 Ann Head Literary Prize for short fiction. The judges were impressed by the story's premise, which proved to be a new way of considering a very old and persistent theme: Why are we humans given a choice? The story tells of a future in which perfection has been achieved. What is left to perfect after that? The author's answer is the past. A cadre of perfect recruits are sent back in time, assigned to correct the imperfections they find among the folks living in the darker ages. That past feels an awful like our present. The heart of the story is about one young recruit assigned to perfect the life of a young woman who chooses to be imperfect, and who finds an intoxicating delight in her errant choices.
Two other students, both new graduates of Beaufort High School's Class of 2022, were
recognized as finalists in this year's competition. Holland Perryman, last year's winner, was a finalist for her story about what has become a modern rite of passage for high school juniors and seniors, "The College Tour." Caton McClam, who wrote a chilling parable of a dysfunctional marriage,"The Man Who Lived in the Locked Room," was this year's other finalist.
Conte will receive a cash prize of $500, and her name will be engraved on the Ann Head Literary Prize plaque to be permanently displayed at Beaufort High School. She will also be honored at the Pat Conroy Literary Festival this fall, where she will have the opportunity to read from her story.
The winning story was chosen from submissions written by students at Beaufort High School. The high caliber of the stories made the decision of the judges, all family members of Ann Head, extremely difficult, although highly enjoyable. The family is grateful for the enthusiastic support of the Beaufort High School English Department and its chair, Wendy LaCombe, as well as for the support and partnership in this endeavor of Jonathan Haupt, executive director of the Pat Conroy Literary Center.
The family of Ann Head congratulates each of the students who submitted a story for the competition this year. They are writers all, and they have proved that they can each craft an original short story. Keep it up, writers of Beaufort High School! Who knows how many more future Pat Conroys Beaufort High might foster?
About Ann Head: Writer Ann Head, the pen name of Anne Wales Christensen Head Morse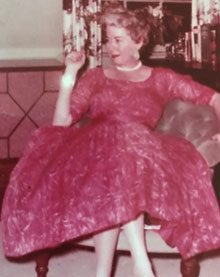 (1915–1968), was the granddaughter of Abbie Holmes Christensen, who came to Beaufort during the Civil War to educate the recently freed enslaved populations of the Sea Islands. Moving back and forth between Boston and Beaufort, Ann carried on the family tradition of bucking traditions and creating new literary forms. Ann was Pat Conroy's first creative writing teacher at Beaufort High School and became Conroy's mentor, confidante, and friend. She was a central figure in Beaufort's midcentury literary scene, befriending many of the famous authors who wintered in Beaufort, including Samuel Hopkins Adams (whom she considered her mentor), Somerset Maugham, John Marquand, and Katherine and E. B. White among others.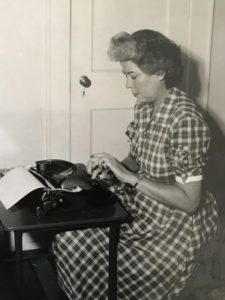 Ann published dozens of short stories and serials in the major national magazines of her day, with many of her stories set in a small town just like Beaufort. She wrote of divorce, snobbery, affairs both emotional and sexual, prejudice, death, and out-of-wedlock childbirth, championing the non-typical heroines of the magazines that eagerly accepted her work. In addition, she authored four novels which were published internationally, most notably Mr. and Mrs. Bo Jo Jones, a compelling story of teen pregnancy which was on school reading lists for 50 years and is credited with helping create the Young Adult novel genre
Ann died suddenly in 1968, at the age of 52, cutting short a vibrant life and promising literary career. The Life of Ann Head was chronicled by her daughter, Nancy Thode, in a lecture originally presented at the Beaufort County Library and now available on YouTube athttps://tinyurl.com/annheadpresentation. To learn more about Ann Head, please visit her entry on Wikipedia. Her stories and books are available locally at the main branch of the Beaufort County Library.
Excerpt from "The Time for Perfection" by Christine Conte (winner)
The year is 26247 A.D., and everything is perfect. Humanity has transcended beyond the point of learning. Everything has been done, everything is known, everything is understood. All the problems that once plagued the universe have been solved. Everything is perfect. Even people.
Everyone has a purpose. It's calculated for how everyone should go about their lives. It's all part of the plan. Everyone knows how they should live to have the most successful life possible. We all know the person we'll love the best, what job we'll have the most success with, and what hobbies we'll be the best at. Everything has been accounted for. Everything is perfect.
Now the only thing left to do is to perfect the past.
Time travel has long been normal, and people have found ways to utilize it. We have achieved the perfect society. This world is the best it can be, so why shouldn't we share it with others? And so, the Tempus Guards were formed, a group who would be able to change the past for the better. Trained in everything from battle strategy to speaking Xhosa, Tempus Guards go back in time to teach people how to be their more ideal selves by removing their faults. One day everyone will be perfect in all of time.
My name is Kian Immaculatus, and I am a Tempus Guard. Or I will be. Today will be my first day. I have gone through all my designated classes and passed them flawlessly. I'm finally prepared for my first mission.
Walking into the command post, I feel…good. I'm not nervous, I can't be nervous. I'm ready for this, I'm meant exactly for this. But what is this feeling in my stomach? I ignore that and approach the desk with a young woman behind it. She smiles and then guides me to a room.
Waiting there is an old man, which is rare. We already know what age we'll have the
best performance at, and not many are flawless as elders. He is holding a machine shaped like a ring. It is dark silver with an electric green 'jewel.' He reaches out to hand it to me. I don't hesitate. I can't hesitate. But for a brief moment, my hands are frozen. He looks at me with a kind smile.
"Kian, you are on a mission to perfect time," he says with a calming voice. "You will be sent to the year 2059. Your mission is in your ring." He gives me an encouraging smile. "You'll know what to do."
Excerpt from "The Man Who Lived in the Locked Room" by Caton McClam (finalist)
 Every night she comes. Just like clockwork. Except he doesn't know if it truly is just like clockwork, as he never knows the time. He hasn't known the time in nearly fifteen years. He does know the day of the week, however.
It's simple, really: Monday is a cold turkey sandwich served with equally cold green peas, Tuesday is a slightly undercooked pasta (Sometimes spaghetti, sometimes alfredo. He's noticed it varies based on mood.) served with a glass of lukewarm water. Wednesday is a fairly pathetic looking taco, if it could even be called that, and it is always served with an indistinguishable mush he has yet to brave. On Thursdays he gets a cold tuna sub and a bag of chips. (Thursday is easily the most edible day of the week.) Friday is a sloppy joe with mystery meat. Saturday is chicken breasts and hard mashed potatoes. And Sunday he gets whatever take-out his wife had picked up.
Today is Wednesday. He knows this because yesterday he ate alfredo. His wife was in an unpleasant mood.
Today, his wife is late. He knows this not because he has a clock, which he does not, but because of the thunderous noises in his abdomen.
Despite the grumbling of his stomach, he felt happy. Hopeful, even. Then he decided it was because of the grumbling of his stomach that he felt that hope. In the nearly fifteen years that the man had lived in this small, windowless room, his wife had never been late. His mind whirled with possibilities. After some time, he settled on one. He sat in the creaky chair at his creaky table with the grumbling of his stomach and waited for his wife because today, he thought, was the day that instead of a fairly pathetic looking taco and indistinguishable mush his wife was preparing him a real meal.
The man was startled awake by a loud sound. His head had a slight throbbing to it, and it hurt to move his neck. As he waited for his eyes to adjust to the dim light, he heard the quiet swishing of the carpet as the door was slowly and carefully pulled shut, and he heard the faint click as the lock turned in place. He doesn't know how late it is, but he knows that it must still be Wednesday, as sitting on a plate across from him is a fairly pathetic looking taco and indistinguishable mush.
 Excerpt from "College Tour" by Holland Perryman (finalist)
"Adelaide, what's wrong?" Mom takes her thumb gently across my cheek and waits for my answer.
I try for some deep breathes. I know exactly what's wrong. It's been the same thing for months now. That doesn't make it easier to say out loud though.
"Mom, this is the eighth college visit we've done." Deep breath. "And this was supposed to be the one." In and out. "It has everything on our list. It's beautiful, and the kids that go here are interesting, and it has every major I've ever thought about." She nods along as I list all the things that we had talked about on the plane ride here. "Everybody who leads these campus tours says stuff about how they knew it was the right place the moment they arrived. How something clicked, and they knew, without a doubt, that this was their place." I feel the tears falling, and my voice cracks. "I've never felt like that. I keep waiting for a sign or something to show me that I belong, but I really just feel like I could throw up." I start massaging my temples to keep the crying headache at bay and wait for her to say something.
"That story about having some magical certainty the second you walk on campus is, excuse my language, bull crap." I laugh despite myself. "I'm sorry if that's what people keep saying. I'm sorry if that's what I've ever said. I don't know why people tell that lie, but the truth is that nobody is sure about this stuff. You can't know." Her words are wobbly, and I look up at her, surprised to see that she's crying too. "Honey, no college visit is going to take away how hard this is going to be. No campus is going to make you feel totally ready. And no stupid tour guide's story about a revelation of their future is true, or even helpful. This is about deciding to take the leap, even though you don't know exactly what's to come. It's about finding a place to try that leap. And when you're giving campus tours one day, at the fabulous school you end up at, you should tell them about this moment. Don't tell them how everything was perfect. Instead, tell them about how you were scared and unsure. Talk about how you sat on this bench and wondered what was wrong with you. And then tell them about your fabulous mother who taught you that nothing is wrong with you. Adelaide, nothing is wrong with you. We're all winging it, making it up as we go. Your job is to not find the school that you already know is perfect for you, but to find the school where you think it's worth finding that out."