This group show at the Art League Gallery of Hilton Head will send you… The Art League Gallery starts the New Year with the group show EXPRESSIVE JOURNEYS: Cindy Chiappetta – Jeanie Hooper – Vickie Jourdan. The show opens with a reception on Tuesday, January 13, 5-7pm, and runs through February 6.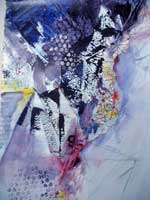 CYNTHIA CHIAPPETTA's work is an exploration of abstract ideas, concepts and opinions concerning the human condition. Cindy delves into her subjects, researching ideas while experimenting with visual presentation. She says: "The dreaded blank canvas is never a problem for me; I love the first mark or splash of paint. Beginnings hold so much promise!"
Cindy's current body of work sprung from a small book of maps – real and imagined, current and ancient. Come to think of it, a map is a thing of beauty: It represents a moment in time when we believe we know where we have been and where we are going. Until the late 18th century, maps were never meant to give directions, so much as to present a place and often present certain spiritual truths. Sometimes maps were just decorative propaganda, statements of pride in the place they described. Cindy: "Now I see them slipping into antiquity as GPS devices take over physical guidance from point A to point B … so I celebrate them in this series." Perhaps some day the map will return to its place in history as an ornate presentation of place, rather than just a series of directions. – What a surprising glimpse into history revealing new meaning behind the "glove compartment map" we have long taken for granted!?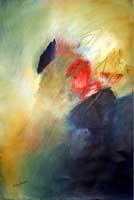 VICKIE JOURDAN is an artist who emerged from a very successful career in interior design. In the past ten years Vickie has attended workshops in watercolor, pastel, oil, mixed media and collage in order to pursue her talent for creative art. Vickie's art work has evolved over the years and she continues to experiment with acrylics, gel mediums, gesso and papers creating unique compositions of color and texture. Her application of color is fleeting or dense as we see in "Wish You Were Here". There are bold patches surrounded by dematerializing softness or textured areas. In the series "Some Like It Hot" strong colors are set in contrast to each other to enhance each other; the sizzling-hot composition in the center is embedded in calming crème and eggshell tones; they create a varying push and pull of foreground and background. Some viewers feel abstract works are easy – to the contrary! To succeed in capturing and engaging the viewer without a narrative, by pure interplay of color and textural elements, that is the true challenge! Words don't do justice to these works – they are a must-see!

JEANIE HOOPER creates layered collages on canvas and paper. Jeanie's works are organic and textural and often inspired by nature. She feels visually sensitive to designs in life many people never notice. She admits: "Wanting to be original in my efforts, I rely on my intuition of what 'feels right'. I often lose myself in the process of play, and then redefine and organize the image until satisfied."
She became interested in floral images while taking a botany class, as shown in the collages "Mum" and "Marsh Grass III." The latter displays how Jeanie enjoys working with the shapes of pods, grasses, ferns, and flowers in a layered composition of stained papers and paint. Jeanie incorporates her handmade papers, as well as palm fronds and other collected natural elements in her collage work. In "Travel Texture" organic forms show contours that abut to woven grids or dense horizontal lines – an intriguing composition that optically recedes and protrudes in the picture plain. Jeanie enjoys creating her pictorial elements by staining her own papers and manipulating collected papers. She sometimes stamps the work with her own handmade stamps to add complexity.
Visit the Art League Gallery in Pineland Station Mall to see these three distinctly different abstract artists! The work of other Art League artists is on exhibit as well. The Gallery is open Monday-Saturday, 10:00 a.m. till 6:00 p.m. For additional information contact the Gallery at 843-681-5060 or visit www.artleaguehhi.org