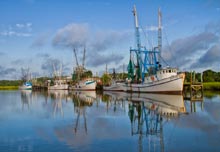 New Works with Old Friends opens at Picture This Gallery on Friday, May 29th with a reception from 6 – 8 pm. The exhibit runs through July 7th, and features photography by Peter Cram, Eric Horan and Mark S. Tierney.
A native of Bluffton, Peter Cram studied photography at the Sierra Nevada College in Incline Village, NV. Primarily a wildlife photographer in the 1980s he had a number of shows and was published in various magazines such as South Carolina Wildlife, Natural History and even the National Enquirer.
After a hiatus from photography on a professional level for 25 years Peter has recently started exploring digital photography doing shoots for Hurricane Kayaks and a display in the Bluffton Redfish Restaurant. This will be the first showing of his work since switching to digital photography. Peter can often be found in the salt marsh in a kayak with his camera.
Eric Horan (see photo above) grew up in Colorado on his family's ranch and summers were spent in northern Michigan. He attended Colorado Mountain College where he graduated with a degree in Commercial Art & Photography. Among the magazines where his work appeared include Business Week, Fortune, Southern Living, Orion, The New York Times Sunday Travel, OUTSIDE, Yachting, Sail and Cruising World and on the cover of Smithsonian.  Book publishers include Fodor's, National Geographic Books and later his own, Carolina Nature, A Photographer's View of the Carolinas.  Mid-career he moved to Hilton Head Island and soon moved to New York City to learn more about the commercial photography industry.  There he assisted some of the top photographers who were working with such clients as UPS and Coca Cola.  He decided to return to the South Carolina Lowcountry and start his own commercial photography business. Eric Horan Photography, Inc. was established in 1994 with his wife Jan, and his images provide a range of collateral material for marketing and advertising the unique, Lowcountry lifestyle.  He also serves as private photo guide to other photographers and is a frequent featured guest on Wild Photo Adventures TV on SC ETV, PBS, ETV and Time Warner.
Mark S. Tierney
Mark S. Tierney was born in Akron, OH in 1959.  He served in the United States Navy from 1977 to 1983.  From 1992-94, Tierney served as a panel member for the Small Grants Committee of the Cultural Council of Hilton Head (SC), funded by the South Carolina Arts Commission.  From 2004-2007, he served as an Emergency Medical Technician for Beaufort County EMS.  In 2007, he became the co-owner of Picture This Gallery in Hilton Head Island, SC.  His foray into the arts began in 1988, when he was accepted into the Hilton Head Art League's First Annual Juried Show, where he was awarded 2nd place.  In 1990, he was accepted into Southern Environmental, a Southeast regional traveling exhibition.  In 1990, he was awarded a small grant from the Cultural Council of Hilton Head to photograph in California.  In 1994, he had a solo exhibition in the SC Photographers Guild in Charleston, SC.  In 2009, he was accepted into the Earth Inspired juried exhibition for the Coastal Conservation League, Lowcountry Region in South Carolina.
Picture this Gallery is located at 78 D Arrow Road, Cypress Square, Hilton Head Island. www.picturethishiltonhead.com