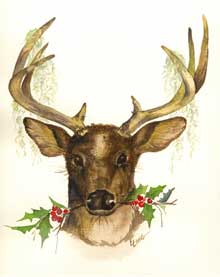 That one word conjures up so many different things for different people: celebration of the birth of Christ, old fashioned songs, images of horses jingling away in the show, presents under the tree . . . etc.
Yet all of the above have one thing in common: TRADITION! This is, indeed, the time of year when we hum the familiar songs, enjoy the glitter of the stores and the streets, delight in shopping for family members and friends . . . and just happily giving in to the good feelings of tradition, the warmth and love of the season, something we all need and want.
There's one tradition The Beaufort Art Association loves to revive each year: The All Member Holiday Show on Monday, Dec. 10 – Saturday, Jan. 5 at the BAA Gallery, 913 Bay Street.
This exhibit will include work by well-known local artists whose work is otherwise not regularly available in the gallery.
If you're looking for an authentic and enduring gift for that special someone, or just want to see some interesting, colorful and locally made artwork, please visit the Beaufort Art Association's Gallery at 913 Bay Street, Monday – Saturday from 10:00 am – 5:00 p.m. and Sundays from 2:00 – 5:00 p.m.