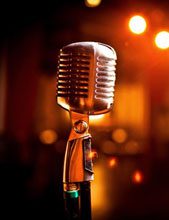 Vivian Bikulege, Director of the South Carolina Writers Association (SCWA), in partnership with the Pat Conroy Literary Center, is pleased to announce "Open Mic Night" for writers of all types held at Common Ground in downtown Beaufort.  Poets, Fiction, and Non-Fiction writers are invited and welcome to attend from 6 -7:30 pm on the 2nd Thursday of each month.  
Enjoy an evening of writers sharing their work with an audience of good listeners and like-minded people pursuing their craft. Have a cup of delicious coffee, enjoy a light snack or glass of wine, with the opportunity to read your work in a comfortable, warm atmosphere. 
This creative writer's evening is a place where emerging and established writers, published and unpublished, can test the waters in front of a live audience. "Beaufort nurtures writers, poets and communities of writing groups," says Vivian, a poet, fiction writer, and contributing columnist to Lowcountry Weekly. "We needed a time and place to give voice to our work. The SCWA, the Conroy Center under Jonathan Haupt's leadership, and Common Ground have done just that." 
The event began in November and attendance has been strong. Reviews are in and it's proving to be a fun and an well-appreciated evening. Bikulege adds, "We hope 'Open Mic' continues to grow, to feature newcomers and visiting writers, and to provide a place to connect and network."
So please join your fellow writers and readers for the next "Open Mic Night," at 6 pm on Thursday, February 13 at Common Ground on the waterfront by the Bay Street clock.  Read your work, enjoy refreshments, and make new friends who are in pursuit, regardless of style or genre, of finding their writer's voice.
For more information, please contact Vivian Bikulege at demvib@embarqmail.comor 843-441-1016.