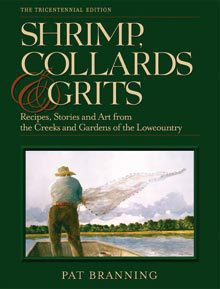 New coffee table cookbook serves up the flavor of the South in stories, images and, of course, recipes.
"
The South is a place where tea is sweet and accents are sweeter, macaroni and cheese is a vegetable, front porches are wide and words are long. Buttermilk pie is a staple. Y'all is a proper noun. Chicken is fried and biscuits come with cream gravy.  Everything is darlin' and someone's heart is always being blessed."
So begins Pat Branning's charming new cookbook, Shrimp, Collards & Grits – Recipes, Stories and Art from the Creeks and Gardens of the Lowcountry.
In addition to almost 200 Lowcountry recipes, this beautiful, full color coffee table book features 150 fine art paintings by such noted Southern artists as Ray Ellis, Nancy Ricker Rhett, John Carroll Doyle and Joe Bowler, among others.
The former Women's Editor for WSB, Atlanta and a hostess for SC ETV, Pat once hosted daily broadcasts on food and entertainment, teaming up with great chefs from around the country while developing a passion for anything Southern – especially cooking! She has lovingly compiled this collection of keepsakes from generations of Southern cooks, timeless recipes still being served today at oyster roasts, barbecues, ladies luncheons, teas and lavish dinner parties throughout the South Carolina Lowcountry, where Pat makes her home.
Today, Pat works as a freelance writer, cookbook author and food editor for the BeaufortTribune.com.  Her website www.mycarolinacooking.com is a great source for recipes, art and stories about the Lowcountry. In March, she was a featured author at the annual Charleston Food and Wine Festival.
What are people saying about Shrimp, Collards and Grits?
"A charming storyteller who combines the unmistakable Southern cadence of stories swapped across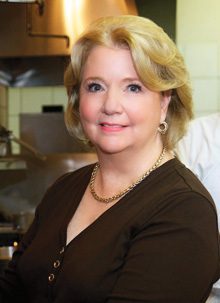 the dinner table with delicious Southern recipes. You get generous servings of each and both are delicious!" – Nathalie Dupree, author of 10 cookbooks, founder, new Southern cooking movement and two-time James Beard Award winner
"Pat Branning captures the subtle essence of outstanding southern cultural cooking from the Lowcountry of South Carolina and Georgia. Readers will enjoy many of these recipes along with her sensitive narratives about southern life and traditions in the Lowcounty." – Jonathan Green, Southern artist and passionate lover of Gullah cuisine
Shrimp, Collards & Grits retails for $34.95 with a special limited and signed Commemorative Beaufort Tricentennial edition in a slipcase for $60.00 and pre-sales are going on now at www.mycarolinacooking.com and www.starbooks.biz
Pat Branning will be signing books in May at the following locations: The Farmer's Market at Historic Honey  Horn Plantation (Hilton Head) on May 6th from 8:30 – 12:30; Beaufot Bookstore (Boundary St, Beaufort) on May 7th from 11 – 2; McIntosh Books (Bay St, Beaufort) on May 7 from 2 – 4; and Le Cookery (Wexford, Hilton Head) on May 14 from 4-7 pm.
For more information, contact the author at or 843-217-4683.pbranning458@gmail.com