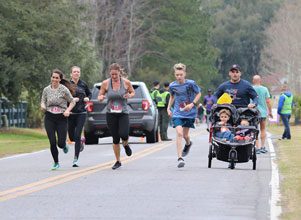 Hopeful Horizons announces the 8th annual Race4Love benefiting local survivors of child abuse, domestic violence and sexual assault. This 5K run/3K walk will be held on Cat Island Saturday, February 15, beginning at 9 am. 
Pre-registration (5K run — $35; 3K walk — $30) is encouraged and is available through Race4Love.com. Fees are $35 for the run and $30 for the walk and group discounts are available. All registrations include the Kiss My Grits breakfast bar by Southern Graces. Riley Miller, WJCL's news anchor, will emcee the event. 
"We are so grateful to our top sponsor Stokes Toyota of Beaufort, Beth Young and the Race4Love committee, and all the event sponsors and Race4Love participants who are helping us end abuse and change lives in the Lowcountry," said Kristin Dubrowski, CEO of Hopeful Horizons. "Support of this event helps to ensure that Hopeful Horizons is able to assist the over 1,100 survivors who reach out to us for lifesaving services each year."
The Race4Love has its origins in the Tate/Coursen Memorial Walk/Run that was organized by Marie Tate in 2012. The event honored Lance Cpl. Dana Tate and Cpl. Dyke "A.J." Coursen, two Beaufort County Sheriff's deputies who were killed when responding to a domestic violence call in 2002. Marie Tate, Lance Cpl. Dana Tate's widow, is still actively involved in Race4Love – race participants will see her out on the course at the "Tate Turnaround." 
Race day registration will open at 8 am at the event. Prizes will be given to the top two male and female overall and medals will go to the top three in each age division. All children age nine and under will receive medals. Prizes will also be awarded for the best Valentine's Day themed outfit/costume, first stroller and the speediest dog. Grounded Running is providing event management and professional timing complete with finish-line photography.
For more information on the 8th annual Race4Love and to register, visit www.race4love.com.  
Hopeful Horizons is a children's advocacy, domestic violence and rape crisis center that works to create safer communities by changing the culture of violence and offering a path to healing. The organization provides safety, hope and healing to survivors through evidence-based practices, outreach, prevention and education. Hopeful Horizons serves Beaufort, Colleton, Hampton, Jasper and Allendale counties. For more information, visit www.hopefulhorizons.org.