Mitchell Bellison always had an agenda. As a college student at the University of Florida, he didn't let the fact he lived in a trailer deter him from getting what he wanted. Now, with intelligence and looks, he cunningly charms his way into the life–and arms–of unsuspecting Southern belle Kate Canterfield. 
Mitchell plays his part to perfection, but it isn't long after their marriage that Kate begins to see his facade crumble and the abuse begins. Still, due to her upbringing, Kate feels obliged to do her best and fix what's wrong, no questions asked. With money and power as an attorney, Mitchell eventually decides he no longer needs Kate in his life, and embarks upon a journey of self-satisfaction. Kate thinks it is enough she escaped an abusive marriage, but she can never totally break free of his control now that they share three daughters.
            Where Have All Our Daughters Gone, by Julie McAlpin Richmond, is a story of contrasts from love and compassion to narcissistic revenge and resilience, set against a backdrop of the wealth and privilege of Naples, Florida to the quiet charm of the Southern Lowcountry of South Carolina. Kate's is a story of compassion, resilience, and survival against the odds.
            Julie was born in Ohio, but has called Florida, South Carolina and, for a short time,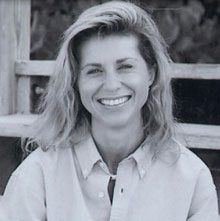 England, home. She has always been passionate about writing to express her thoughts and feelings, but also as a means to help others. 
​            With three grown daughters, Julie now lives here in the Lowcountry with her husband and youngest daughter along with their menagerie of animals. When she's not cooking, gardening, reading novels, or watching romantic comedies, she is a history professor at USCB. Julie is presently working on her second novel,Green Grass and High Tides, which she plans to release in the late spring of 2019.
BOOK SIGNING EVENTS:

Saturday, October 6 –Beaufort Shrimp Festival, McIntosh Books, Bay Street, 11 am to 3 pm
​Saturday, October 26 –Historic Beaufort Foundation, 2018 Fall Festival of Houses & Gardens – McIntosh Books on Bay Street, 11 am – 3 pm
​Saturday, November 11 –Bluffton Book Festival, Old Town Bluffton, Calhoun Street, 10 am – 4 pm