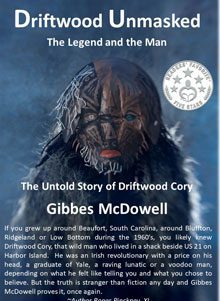 YBR Publishing is proud to announce the public debut of Driftwood Unmasked, a novel by Beaufort's own Gibbes McDowell, at Boondocks Restaurant, 1760 Sea Island Parkway, Saint Helena Island, on Saturday, October 13 from 4:30 – 8:30 pm.
Driftwood Unmasked is a fictional account of real-life Beaufort legend "Driftwood" Cory, beginning with a 16th Century pirate adventure that takes place on a local Sea Island. McDowell then advances the introduction with a small history lesson on Beaufort and the surrounding islands, before leading into the main story of an Irish-born rogue finding adventure, purpose and community among the Gullah people of the islands following his escape from the horrors of World War I.
While Cory attracts the attention of the local "good ol' boy" politicians and law-enforcement, he is largely left alone, making and selling art made from driftwood and horseshoe shells, until one day Cory finds buried treasure near his home and store.
McDowell also offers a postscript, the actual biography of the man known locally only as "Driftwood" Cory during the 1960s and early 1970s, based on information discovered while he was researching his book.
John R. Dennstedt of Readers Favorite, LLC, gives Driftwood Unmasked a five-star review, saying: "With elegant and simple prose, a masterful accomplishment in itself, Mr. McDowell brings together a cast of fascinating characters, a background steeped in historical actuality, a series of mini-plots worthy of a great mystery writer, hidden treasure, and down-home southern island flavor only someone impeccably acquainted with the region could possibly express."