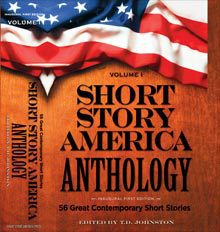 The publication of Short Story America Anthology, Volume I, marks another major milestone in Beaufort resident Tim Johnston's quest to revive the great American literary art form.
When Beaufort writer Tim Johnston launched his website Short Story America a couple of years ago, I interviewed him about his mission to rescue a dying literary art form.
"The short story didn't lose popularity because authors forgot how to write stories that entertain, move and matter," Johnston told me during that conversation.
"Rather, modern technology, over time, has made it seem like harder work to read a short story than, say, to follow gossip entertainment or trade text messages in shorthand. So the short story has been shoved to the cultural sidewalk while, in the words of a long-time literary editor, a dumbed-down culture of faddism 'goose steps down Main Street.' That's quite a scary analogy, but it truly is a threat to our society when people don't engage in meaningful reading from adolescence all the way through old age."
Since that discussion, the Short Story America website has grown to over 5000 registered members, its regular readership hailing from nearly 60 countries around the world. SSA publishes a new story every week, while continuing to expand its library of contemporary stories and classics. Johnston has high hopes for the future, too, with plans to offer audio-anthologies and single-story downloads, along with e-versions of SSA books.
And speaking of SSA books… in June of this year, Johnston and his team realized a major milestone with the publication of the first Short Story America Anthology.
Over the past wintry week or two, I had the pleasure of snuggling up under the covers with this handsome hardcover volume. Short stories make for perfect bedtime reading, I think. Unlike a novel, which is never over 'til it's over, a short story can offer narrative closure before you close your eyes. I like that.
And I like this anthology. Very much. I'm told the authors hail from the spectrum of American life – from metropolitan areas like New York, Chicago, Los Angeles, Boston, Cincinnati, San Antonio, Philadelphia, etc. to smaller towns like Charlottesville, VA, Prescott, WA, and even Beaufort. (Three of the stories are by Canadian authors, one is by an Irish author living in Stockholm, Sweden, and one is by an author in Malaysia.) But this geographical diversity pales in comparison to the wide, wonderful range of narrative voices – and unforgettable characters – that bring this collection to vivid, bristling life.
Days laters, I'm still thinking about Mason, the shattered survivor in "Wounded Moon," by Gay Degani. And Elaine, the disoriented middle-aged mother who sees her former self in her son's rebellious girlfriend ("This Is Not My Beautiful Life," by Ted McLoof). I'm haunted by the old woman, Irene, slowly slipping down the dark hallway of Alzheimer's – where the same memory keeps changing shape ("Disengaged" by Jen Knox) – and the old man, Fergus, whose spite-filled fantasies keep him alive ("Fergus" by Laury A. Egan).
T.D. (Tim) Johnston, himself, has four stories in the anthology. "Friday Afternoon" is a startling tale that one SSA reader called a "short story masterpiece… right up there with 'The Lottery' and 'The Most Dangerous Game.'" "The Interruption of Thomas Darrow" is history-based, set during the execution of Mary Surratt and the three other convicted conspirators in the Lincoln assassination. "The Errand" is a poignant examination of spiritual compromise and the death of passion, while "The Guest" redeems that sad narrative with its wonderful surprise of an ending. I am pleased to report that Johnston's stories are among the most original and compelling in this very fine, very expansive collection.
But it's not just as a writer, but as a reader – not to mention a former educator – that Johnston is wholly devoted to his mission of giving the short story its long overdue comeback. He seems to take that mission very personally.
"Sad, isn't it, " says Johnston, "that very few people are even aware the Ray Bradbury published another short story this year? I find that awful. Frankly, in the afterlife I would rather hang out with Ray Bradbury than with Steve Jobs, and I say that while admiring the enormous technological legacy of Steve Jobs. It's just sad that a literary master like Bradbury, now in his nineties and in a wheelchair, might easily end up as a page-two obit in the Gazette when he passes. Our culture has not advanced in the past thirty years, regardless of electronic progress. Fortunately, great works of literary art are still being created, but unfortunately those works, and their creators, have a difficult chore in modern times in finding an audience, while at the same time there is a neglected reading audience that laments the difficulty of finding great modern works to read. 'Great' can only be defined over time, but we have discovered at SSA that 'good' is out there, aplenty, looking for readers. And readers who have found us love our stories."
"Opening the Short Story America Anthology is like opening a box of wonderful assorted chocolates," says Shelley Stack, author of SSA story "Along for the Ride." "You can pick and choose and never be disappointed with the variety of topics and narrative techniques. Each story is delicious in its own right."
The Short Story America Anthology Volume I would make an excellent Christmas present for the readers in your life. And Johnston tells me the holiday season is crucial to his company's ability to keep doing what they do. You can support SSA's mission – and finish your holiday shopping! – by ordering the book directly from the SSA website (www.shortstoryamerica.com) or calling 843-524-7800