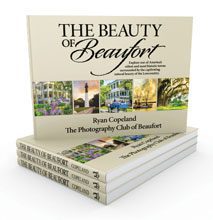 By Margaret Evans, Editor
Ryan Copeland on The Beauty of Beaufort, his new book with Lydia Inglett and the Photography Club of Beaufort.
When I heard that Lydia Inglett, Ryan Copeland, and the Photography Club of Beaufort were joining forces to create a new book about Beaufort, I could hardly wait to get my hands on it. Both Lydia and Ryan are longtime friends of Lowcountry Weekly: Lydia was our original art director and Ryan's writing has enlivened our pages over the years. As for the Photography Club, I can't count the number of times their work has graced our publication. I suspected this creative team would produce a Beaufort book to beat all Beaufort books. I was not wrong.
When you behold The Beauty of Beaufort, it'll be love at first sight. Lydia's elegant design, the exceptional work of our local photographers, and the splendor of their subject matter all speak for themselves. Even so, there's a good bit of text in this book – just enough and just the right kind. Ryan Copeland tells the story of Beaufort in the crisp, engaging prose of a seasoned columnist who knows his voice . . . and his hometown.
Margaret Evans: There have been many books written about Beaufort over the years.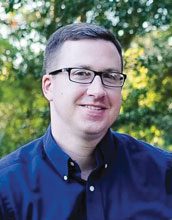 What makes this one the definitive Beaufort book?
Ryan Copeland: This is an amalgamation of all the books about Beaufort that I grew up reading. Nell Graydon's Tales of Beaufort, Sheriff McTeer's various books, publications put out by the HBF . . . they all probably crept subconsciously into my mind while I was writing. Historic volumes like Dr. Larry Rowland's have their rightful place in the canon, as do memoirs and straight-up photography books. Hopefully this can occupy its own unique spot on the shelf with others.
ME: You grew up in Beaufort and have lived here forever – not counting college at Clemson. Have you been taking notes for this book all your life?
RC: I grew up listening to my grandmother and her sisters talk around the Sunday dinner table – after church – about who had died recently, who was married to who's great-nephew and who didn't merit further mentioning. As I got older I lingered a little longer and listened a little more closely at the table. Their stories would always delve back into what life in Beaufort was like in the 1940's, 50's and 60's. I always found those snapshots in time fascinating. So yes, many of the places in the book are the same places where the stories of boat races, parties and events took place.
            Here, you could get caught up in "remember when Ned Brown's photography studio was near the TCL gym and the hospital?" for hours, until you realize those places and people don't exist anymore. Thankfully, their memories and offspring do.
ME: Who did you write this book for? The local reader or the tourist?
RC: It's for both, honestly. Hopefully it captures the essence of all the places a tourist would go – all the spots and experiences reviewed on Trip Advisor. But I think it also highlights some places every local should know a little something about. The area is so rich in history that even having cursory knowledge of more than a handful of important landmarks and events is difficult.
ME: The book is full of extraordinary photos taken by members of the Photography Club of Beaufort. Which came first, the pictures or the text?
RC: The text came first – I was given the opportunity to come up with a list of what should be included. Once I saw the pictures coming in that went along with the text, well . . . their quality exceeded anything in my imagination.
ME: The book is very comprehensive – and text-heavy – for a glossy coffee table book of photography. Often, publishers take the easy route and let the pictures do the talking. Why did you and Lydia Inglett decide to do something more substantial?
RC: Lydia and I had multiple conversations about what we wanted in the book and in the process discovered a mutual love of the written word. Today's readers, however, probably need a little more than simple text to keep attention. Let's be honest – the photographs are what's going to sell the book. That, combined with Lydia's elegant layout. Words just give context to photos that otherwise speak for themselves. I'm envious of the talent of the participating photographers.
ME: You're a regular columnist for the Beaufort Gazette/Island Packet, and have even shared a few of your pieces here in Lowcountry Weekly. How is writing a book different from writing a column?
RC: Column-writing is fun because it gives you a chance to highlight the untold stories of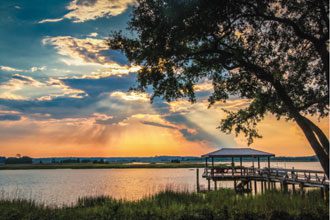 people who do good in their lives every day. We live in a town that has an amazing combination of unique places and, frankly, unique people. The book focuses more on the places and the stories behind their existence. The length of the entries in the book is similar to the length of my columns. Hopefully they're not long enough to put someone to sleep. That's what televised sermons are for.
ME: This is your first book. Was it harder than you expected?
RC: You always hear writers say "labor of love." Sometimes they say it through clenched teeth, or they finish a three-volume project and then have massive heart attacks. For me, though, it really was fun. I'm a nerd who likes research and likes to think about sentence structure and how to best get across a point using language. The hardest thing was finding time to write. I have two boys, a wife, a full-time job and other ventures. I also am not sure if you heard but Clemson won a National Championship in football earlier this year, so that took up a lot of my time, too. But I got to write in my spare time and neglect exercise, so I'm heading into this summer with full-on Dad Bod. More plusses than minuses, and hopefully it's only the start for me.
ME: Does it feel as good to hold it in your hands as you imagined it would?
In a way it's your "baby," only it doesn't require constant outfit changing. You put out multiple issues of Lowcountry Weekly every year. I think each one you get fresh off-the-press probably excites you because you're boldly putting out your work for others to read and enjoy. I'm hoping it's a book that will become part of someone's collection, and a little piece of me can reside in their home, not unlike an urn.
ME: Your late father, Curt Copeland, was the beloved coroner here for many years. Did you ever consider following in his footsteps, or were you always a man of letters, not science?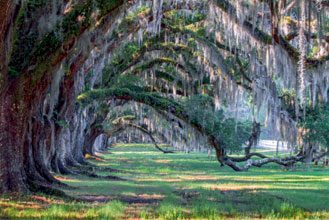 RC: Speaking of urns . . . Coroners have lives, too, and occasionally they have to take their young children with them on calls and leave them in the car to do homework at a death scene. It's unavoidable, as is getting out of working in the family business even when that business is a funeral home. I did everything short of embalming in earlier years. I saw enough to know it wasn't for me, though I missed out on working with him. I think he had designs on it one day being "Copeland and Son," maybe, but his shadow was too large for me. It would have been impossible for me to follow him and live up to his standards, so I decided to go down my own divergent path. It's like drinking unsweet tea. God bless those who can do it, but it ain't for everyone.  
            And I am a man of Information Science. At least that's what it says on the diploma.
ME: You work in the library at Battery Creek High School. Will being a published author gain you any cred with your students?
RC: I probably get the most street cred on the days I bust out the Adidas Superstars. We have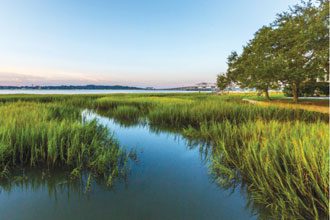 had English teachers at Battery Creek in the past who are published authors. Unless I can get the book to download as an app on their phones, I'll still just be the quickly-graying, slightly-out-of-shape librarian. It's hard to impress teenagers.
The public is invited to a Book Debut for The Beauty of Beaufort on Thursday, May 18th from 5:30 – 7:30 pm at Tabby Place in downtown Beaufort. Books will be available for purchase and autographing.
Proceeds from the sale of books by The Photography Club of Beaufort will benefit the Friends of Hunting Island. (A special online fundraiser for books purchased at www.starbooks.biz is taking place through May 31.) Lydia Inglett Publishing and Starbooks is proud to be a part of this community-wide project that will benefit The Photography Club of Beaufort and the work of the Friends of Hunting Island.
Photos of Beaufort above, starting with the shrimpboats, were taken by Ellen Corbett, Sandy Dimke, Janet Garrity, and Joan Eckhardt