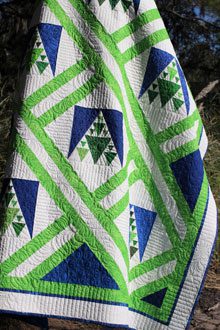 The Sea Island Quilters will present their biannual "Southern Comforts" quilt show on Friday, May 5, and Saturday, May 6, at the Holiday Inn, 2225 Boundary Street, Beaufort, SC. The hours are from 10 am to 5 pm both days. Admission is $6.00 for adults. Children under 12 are free.
            Begun in 1987 "to foster the art of quilting, to encourage high standards of design and techniques in all of its various forms, and to stimulate an interest in the goals within the community," the guild will celebrate 30 years of stitching together this spring. Featured at the show will be approximately 150 quilts of all sizes and styles from traditional, to modern, to contemporary art. To commemorate the 30th Anniversary, the quilters have created a beautiful quilt – "Song of the Sea Islands" – to be raffled. The block chosen for the quilt is the guild logo designed by first president, Marjorie Smith. The blue, green, and cream-colored triangles represent the land and marshes (green), the ocean (blue), and the sand (cream) of the Sea Islands. The quilt was made by guild members Shelby Berry, Mary Campbell, Beverly Heles, Joey Patrucco, Karen Guinn, Brenda Wagner Shea Werner, and Andrea West. Professional long arm quilting is by Lynn O'Neal of Creative Clutter Quilting. Tickets for the quilt are $1.00 each or 6 for $5.00.
            In addition to the show and quilt raffle, there will be an opportunity to purchase tickets for various themed gift baskets. A small merchant's mall will be available for shopping. Items include fabrics, thread, embroidery supplies, vintage textiles, and more.
Proceeds from the quilt show will used to support guild activities such as making quilts for local children's shelters, assisting students and adults who want to learn to quilt, and sponsoring lectures and workshops. During its 30 year history, the guild has hosted many national teachers and authors including Sharyn Craig, Darra Duffy Williamson, Karen Kay Buckley, Suzanne Marshall, Pat Wys, Carol Doak, Vickie Klontz, Nancy Johnson-Srebro, Cindy Blackberg, Linda Cantrell, Sharon Newman, Carol Britt, Susan Edmondson, Nan Tournier, Jan Smiley, and most recently, Bonnie Hunter.
            The judge for the show is Lorraine Covington of Clemmons, NC. Covington has been quilting for 45 years and is a certified judge having completed the National Quilting Association's credentialing process. Attendees will also have the opportunity to vote for their favorite quilt, which will be awarded a "Viewer's Choice" ribbon.
            For more information, contact Pat Bennett at 843-470-0020 or Sam Cowen at 843-271-5123