New York Times bestselling writer Kim Michele Richardson returns to the enchanting landscape and hardscrabble lives of Troublesome Creek, Kentucky, with a new generation of heroic packhorse librarian sharing empowerment through literacy. The Book Woman's Daughter is Richardson's highly anticipated sequel to her 2019 novel The Book Woman of Troublesome Creek.
On Tuesday, May 10, at 7:00 p.m., Richardson will be interviewed Holland Perryman and Jonathan Haupt, who also reviewed the new novel for the Charleston Post and Courier. This free virtual event is hosted in partnership between the Pat Conroy Literary Center, Blue Bicycle Books of Charleston, and the Friends of South Carolina Libraries.
To attend on Zoom register in advance by May 8 at https://aneveningwithkimmichelerichardson.eventbrite.com.The author's conversation will also be live-streamed on the Conroy Center's Facebook page.
Advance Praise for The Book Woman's Daughter
"In Kim Michele Richardson's beautifully and authentically rendered The Book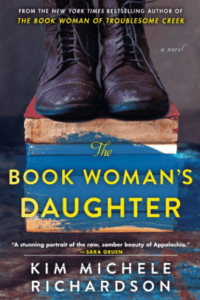 Woman's Daughter she once again paints a stunning portrait of the raw, somber beauty of Appalachia, the strong resolve of remarkable women living in a world dominated by men, and the power of books and sisterhood to prevail in the harshest circumstances. A critical and profoundly important read for our time. Badassery womanhood at its best!"―Sara Gruen, #1 New York Times bestselling author of Water for Elephants
"Aided by lush imagery and lyrical use of dialect and colloquialisms, Richardson masterfully crafts an immersion into an era when progressive ideals of inclusivity and individualism were met with anti-intellectualism and book banning—which is to say an era quite like our own. She also shines in juxtaposing the youthful innocence and hard-won tenacity of her first-person narrator, as this new Book Woman traverses the dangers of her precarious situation while never losing her faith in the transcendent power of books and stories to embolden our imaginations and transform our lives for the better."—Charleston Post and Courier
About the Author
The New York Times, Los Angeles Times, and USA Today bestselling author, Kim Michele Richardson has written five works of historical fiction, and a bestselling memoir, The Unbreakable Child. Her critically acclaimed novel The Book Woman of Troublesome Creek has earned a 2020 PBS Readers Choice, 2019 LibraryReads Best Book, Indie Next, SIBA, Forbes Best Historical Novel, Book-A-Million Best Fiction, and is an Oprah's Buzziest Books pick and a Women's National Book Association Great Group Reads selection. It was inspired by the real life, remarkable "blue people" of Kentucky, and the brave Packhorse Librarians who used the power of literacy to overcome bigotry and fear during the Great Depression. Her forthcoming fifth novel, The Book Woman's Daughter, will be published on May 3. She lives with her family in Kentucky, where she is also the founder of Shy Rabbit writers retreat.
About the Hosts
Beaufort High School senior Holland Perryman is the first intern of the nonprofit Pat Conroy Literary Center and of the Friends of South Carolina Libraries. Jonathan Haupt is the Conroy Center's executive director and coeditor of the award-winning anthology Our Prince of Scribes: Writers Remember Pat Conroy. 
Learn more about the Pat Conroy Literary Center at www.patconroyliterarycenter.org, about Blue Bicycle Books at www.bluebicyclebooks.com, and about the Friends of South Carolina Libraries at http://foscl.org.