The stars will soon shine brightly at Beaufort's historic Arsenal. That's because the Beaufort History Museum (BHM) is planning a book signing reception in the Arsenal courtyard for celebrated local writer Bernie Schein, showcasing the launch of his new book, Famous All Over Town.
Fellow author and great friend, Pat Conroy, and his wife, the writer Cassandra King, and other friends and family will be on hand to welcome guests and toast the success of the new book. The party is scheduled for Thursday, September 25, from 6 – 8 pm. Complimentary wine, beer and a selection of cheeses and fruit will be served. This is an invitation only event and space is limited. To request an invitation call 843-277-1443 or email beaufortschistorymuseum@gmail.com.
"We are delighted to join with Bernie's friends to host the book signing," said BHM Board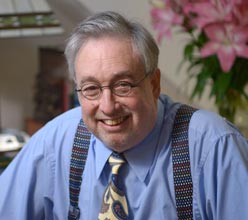 member and past President, Katherine Lang. "It is really a hometown party and the first event we have held at the Arsenal since the museum moved back a few months ago. Bernie's new book is about growing up in Beaufort and just seems tailor-made for us. We will have copies of the book, signed by Bernie, available for sale."
Famous All Over Town is receiving glowing reviews. Here is what Conroy wrote: " Like its author, this ambitious novel is by turns hysterically funny, wildly neurotic, uniquely sensitive, and heartbreakingly honest. Bernie has staked his claim on the literary landscape of the South with his unforgettable small town of equally unforgettable Jews, whites, blacks, marines, politicians, prostitutes, cops, killers, sell-outs, aristocrats, journalists, and rebels. He shies away from neither the best nor worse in us and, with compassion and authority, tells a story that is at once his own and that of everyone you will ever meet, each made famous all over town."
The Beaufort History Museum, which was founded in 1939 and has recently moved back to the Arsenal, has evolved to focus specifically on the deep and rich history of the Beaufort District.    It strives to manage and display artifacts and documents held by the City of Beaufort, telling the compelling stories of this area from the early 16th Century until modern times. The Arsenal address is 713 Craven Street at the corner of Carteret Street. The Beaufort History Museum maintains a website at www.beauforthistorymuseum.com .