With her debut novel 'My Magnolia Summer,' Victoria Benton Frank does her mother proud.
Victoria Benton Frank doesn't mind if you call her debut novel "chick lit" or a "beach read." In fact, she'd be honored. Her mother, Dorothea Benton Frank, embraced those labels with gusto and great success, writing 20 NY Times bestsellers before her death four years ago at the age of 67.
At 37, Victoria is getting a significant jump on her mom, who didn't publish her first book until she was almost 50. In Victoria's debut, My Magnolia Summer, she takes her readers to Sullivan's Island, the setting – and title – of her mother's first novel.
Literary bigwigs are lining up to praise My Magnolia Summer.
Adriana Triagiani says, "Southern fiction has a fresh, fabulous voice in Victoria Benton Frank who owns summer with her delicious debut novel." Patti Callahan Henry calls the book "mesmerizing… a powerful debut… enchanting, hilarious, insightful." Ann Patchett says Victoria has proven herself "the rightful heir to the crown of summertime storytellers."
Indeed, My Magnolia Summer checks all the boxes of great summertime storytelling. Here's the setup:
"Charleston born Maggie Adams (born Magnolia after the fairest summer flower) is chasing her New York City dream of being a chef. Sure, she misses her family and the balmy beach weather back home on Sullivan's Island, but she's inches away from her big break working at Bar JP, one of NYC's most popular restaurants, and semi happily involved in a romantic relationship with Ronny, a fickle, but handsome and talented chef she works with. The stars seemed aligned in her favor, until a phone call from her sister Violet changes everything. 
"Gran, the treasured matriarch, has fallen into a coma after a car accident caused by Maggie's troubled mother, Lily. Maggie rushes home to be by her side and soon finds herself playing catch-up on all the family drama that her New York life has shielded her from. The Magic Lantern, the restaurant owned and run by generations of women in her family, is being run into the ground by her mom's new boyfriend Buster, and her sister seems headed for an epic breakup…"
Come on. You know you're dying to find out what happens next!
A graduate of the College of Charleston and the French Culinary Institute, Victoria worked as a chef in New York in her 20s, then later married one. She says she always knew she was a storyteller, but not necessarily a writer.
"I think every artist – every creative person – is a storyteller of sorts," she says. "First, I did it through dance. Then, for a while, it was acting. Then I was a chef. I think I was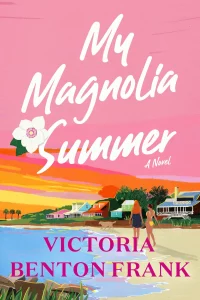 always just trying to find my creative niche. My mom always thought I'd be a writer – she told me I would be – but I didn't see it. This book is about fighting your own destiny – I didn't mean it to be, but that's what happened – and I think I was fighting my own destiny back then."
After a good bit of prodding from Mom (known to friends and fans alike as "Dottie"), Victoria finally decided to give writing a try. She almost saw it as an experiment. "I honestly didn't expect anything to happen. I couldn't imagine anybody would want to read a book written by me. I had no idea what I was doing."
It took Victoria seven years to write My Magnolia Summer. To say that a lot happened during that time, to slow things down, would be a gross understatement.
"I got married. I had a baby. I got pregnant with another baby. Then my mom died."
It happened quickly. Dottie Frank was diagnosed with myelodysplastic syndrome around Memorial Day of 2019, and by Labor Day, she was gone. Mother and daughter were very close, and Victoria is grateful to this day that she'd already started the book before her mother's death.
"She got to read a little of it," says Victoria. "And she was just really encouraging. She'd say, 'You're so good! You're better than me!' It meant so much to her that I had my own voice. That I was writing my own book, living my own life – not some version of hers."
"She was my biggest advocate, my strongest support, my best friend," continues Victoria, then adds, laughing, "And her last words to me, on her deathbed, were 'Finish your f'ing book.'"
Despite her mother's characteristically spirited encouragement, it's her editor at HarperCollins, Carrie Feron, whom Victoria credits with truly igniting her passion for writing.
"Working with a great editor is like being an athlete with an Olympic coach," she says of Feron, who was also Dottie's longtime editor. "Before I started with Carrie, writing was arduous for me. Working with her, I fell in love with it. Pages just started pouring out of me. I was always a storyteller, but I wasn't an author until I met Carrie."
So, back to this "chick lit/beach read" business? Victoria swears she's fine with those descriptors. More than fine.
"I think women tell the best stories," she says. "You know how the most important piece of furniture in the house is the kitchen table? Well, the most important storytellers are women! And who doesn't love a beach read? Hey, I just want this book to leave you happy, hungry, and laughing. I don't want to screw with your mind. This is NOT The Shining. I'm not Stephen King."
Victoria has clearly inherited her mother's delightful wit and irreverence, but that's not all. Along with being "chick lit" and a "beach read," her novel is also what you might call a "page turner." It really moves and engages every step of the way. Victoria credits her editor, who taught her so much about structure and perspective and character, but also her own choice of subject matter.
"You know how they always say, 'Write the book you want to read.?' Well, I was missing my Ya-Ya Sisterhoods and Fried Green Tomatoes and such. I wanted to read a good Southern story about strong women and family ties and the love of place. And so I wrote one."
And now she's hard at work on Book 2 of what she envisions as a series of novels about the florally-named Adams women of Sullivan's Island. This book will revolve around Magnolia's sister, Violet.
Inevitable comparisons notwithstanding, Victoria says she doesn't feel any pressure to fill her mother's formidable shoes. "Nobody can ever fill those Manolo Blahniks," she laughs. "But hey, I'll do my own thing. Maybe I'll wear Jimmy Choos."
Victoria Benton Frank will talk and sign books during a reception at the Beaufort Bookstore on Wednesday, June 21, from 5 – 6:30 pm. The public is welcome. 2127 Boundary Street, Beaufort.