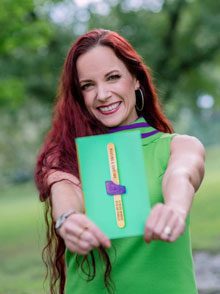 Memoirist, novelist, and poet laureate of Mississippi Beth Ann Fennelly will launch the Pat Conroy Literary Center's 2018 Visiting Writers Series with her appearance on Thursday, August 9, 6:00–7:30 p.m., at the Hilton Head Island Branch Library (11 Beach City Road). Free and open to the public, this event will feature Fennelly's remarks on—and a reading from—her most recent book, Heating & Cooling: 52 Micro-Memoirs.   
 "With the concision of poetry, the scope of fiction, and the potency of a well-told memoir, Heating & Cooling imparts tremendous joy, heartache, and surprise in about 100 pages," praised the Charleston Post & Courier. "Beth Ann Fennelly's genre-defying collection is so engaging and readable that you won't even notice how much you're learning about confronting the hardest challenge we all share: being human. . . . Everyone should read this book," assured The Atlanta Journal-Constitution.
            Ranging in length from 10 words to six pages, the micro-memoirs in Heating & Cooling offer bright glimpses into a richly lived life, combining the compression of poetry with the truth-telling of nonfiction into one heartfelt, celebratory book. From childhood recollections to quirky cultural observations, these remembrances build on one another to arrive at a portrait of Fennelly as a wife, mother, writer, and deeply original observer of life's challenges and joys. Some pieces are wistful, some wry, and many reveal the humor buried in our everyday interactions. 
            Fennelly teaches in the MFA Program at the University of Mississippi. She has published three poetry collections: Open House, Tender Hooks, and Unmentionables. In addition to Heating & Cooling, Fennelly is also the author of the book of essays, Great with Child: Letters to a Young Mother, and the historical novel The Tilted World (co-authored with her husband Tom Franklin).
            A book signing will follow Fennelly's August 9 evening appearance at the Hilton Head Branch Library. On August 10, Fennelly will also join Conroy Center executive director Jonathan Haupt and USC Beaufort writer in residence Ellen Malphrus for professional development workshop for the language arts teachers of the Beaufort County School District.
            The Conroy Center's Visiting Writers Series is sponsored in part by a grant from South Carolina Humanities, a not-for-profit organization; inspiring, engaging and enriching South Carolinians with programs on literature, history, culture and heritage. 
Future dates and presenters in the series are as follows:
Sunday, September 9, 3:00 p.m., Southern Writers on Writing panel discussion with editor and novelist Susan Cushman (Cherry Bomb) and contributing writers Cassandra King Conroy (Moonrise), Patti Callahan Henry (The Bookshop at Water's End), Harrison Scott Key (The World's Largest Man), and Nicole Seitz (The Cage-Maker), at the Rotary Community Center, 11 Recreation Ct., Bluffton
Thursday, September 27, 4:00 p.m., Thomas McConnell, author of World War II historical novel The Wooden King, at NeverMore Books, 702 Craven St., Beaufort
Tuesday, October 2, 2:00 p.m., poet and editor Clifford Brooks, author of Athena Departs and The Draw of Broken Eyes and Whirling Metaphysics, at the Hilton Head Branch Library, 11 Beach City Rd.
Saturday, October 6, 11:30 a.m., librarian and author Annie Spence, author of Dear Fahrenheit 451, in conversation with fellow librarian and author James E. McTeer II, author of Minnow: A Novel, at the Technical College of the Lowcountry, MacLean Hall, 104 Reynolds St., Beaufort— keynote event of the Second Annual Lowcountry Book Club Convention
Wednesday, October 10, 6:30 p.m., Natasha Boyd, author of the historical novel of the life of Eliza Lucas Pinckney The Indigo Girl, at First Presbyterian Church Hilton Head Island, 540 William Hilton Pkwy.
Saturday, December 8, 3:00 p.m., New York Times best-selling novelists Wiley Cash, author of The Last Ballad, and Jason Mott, author of The Crossing, at the Technical College of the Lowcountry, MacLean Hall, 104 Reynolds St., Beaufort
The nonprofit Pat Conroy Literary Center is South Carolina's first affiliate of the American Writers Museum and second American Library Association Literary Landmark. Through its interpretive center, year-round educational programs, and annual literary festival, the Conroy Center preserves and continues the literary legacy of Pat Conroy (1945–2016) as a teacher, mentor, advocate, and friend to readers and writers alike. To learn more about the Conroy Center, please visit www.patconroyliterarycenter.org.