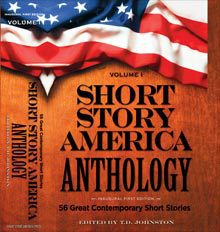 Beaufort's Tim Johnston talks to editor Margaret Evans about SSA's growing web presence and the upcoming launch party for its first anthology.
Margaret Evans: Tim, you gave me a great interview when you launched the Short Story America website, about a year and 1/2 ago. Now you've published your first anthology, which we'll discuss in a bit. But what kind of readership have you built for the website since its inception?
Tim Johnston: We launched Short Story America on January 15th, 2010, with my story, "Friday Afternoon." At the end of January 2010, we had our first 200 registered members. We now have nearly 4,000 regular readers. We have published nearly 80 contemporary short stories by today's writers, and those stories have been selected from nearly 5,000 stories submitted by authors around the U.S. and the world.
ME: Wow, impressive! If I remember correctly, you had a pretty broad, ambitious vision for Short Story America when you started. You were considering selling advertising, institutional memberships, and audio downloads, among other ideas. How has that vision materialized? Along with publishing a new story online every week, what have you added to the mix?
TJ: We are now producing stories for audio (this work is being done here locally, as is the production of the book series). Soon every one of our contemporary stories will be available for audio download at a nominal price, so that one can listen to short stories in much the same way one listens to music on an iPod. The anthology will also come out in audio on CD. We also plan to make e-reader versions available for single stories (as PDF downloads) and for the anthology, but only after the book has received our first attention. We believe in good old-fashioned books (which will always be my top preference as a reader and collector of books), but we also believe in electronic libraries, as anything that makes it easier for people to read is a very good thing. Regarding advertising, we want to be sure to keep the reading experience and the atmosphere at our website as pleasant and uninterrupted as possible. Therefore, our plan is to eventually have a presenting sponsor for our regular Story of the Week feature, so that the reader is aware of the tasteful sponsor and has a chance to appreciate that sponsor, and then can read the story without worrying about bothersome ads in margins or smack in the middle of the page, which far too many sites force their readers to tolerate. The concept of institutional memberships (for schools and libraries) is in development, but we won't offer institutional memberships until we have created lesson plans and other meaningful benefits for those institutions.
ME: So, the biggest news is that you've just published your first anthology. Tell me about that. What can readers expect to find inside?
TJ: The Short Story America Anthology, Volume I, is a hardcover collection of the first 56 modern short stories published by Short Story America. It's a great book, 544 pages of superb stories that have been praised as top-flight literary fiction. The authors are from the spectrum of American life, from metropolitan areas like New York, Chicago, Los Angeles, Boston, Cincinnati, San Antonio, Philadelphia, etc. to smaller towns like Charlottesville (Virginia), Prescott (Washington) and, yes, Beaufort, South Carolina! Three of the stories are by Canadian authors, one is by an Irish author living in Stockholm, Sweden, and one is by an author in Malaysia. It's an eclectic collection that proves that the short story is alive and well, as it should be as the original American literary art form.
ME: Speaking of that word "American," your website and book both bear the name "Short Story America," and the anthology has an American flag on the cover, but clearly you publish work from outside the United States. What's up with that title?
TJ: The reason that I chose Short Story America as the name of our publication is that our mission is devoted to raising awareness and appreciation for short stories in American culture. This does not mean that we will publish only American authors. Just as the classic masters of the short story include foreign greats like Anton Chekhov, Nikolai Gogol and Leo Tolstoy (Russian authors), Guy de Maupassant (France), Virginia Woolf, Arthur Conan Doyle and W.W. Jacobs (U.K.), and many others, so too must any collection of the best modern stories contain top short fiction from wherever the author happens to reside. We are about great short stories and making them known and appreciated in the United States, but our name does not mean exclusion of foreign writers (or readers, as we have readers in over fifty countries). That is why our Classics Library (all in PDF for the convenience of readers including educators and students) has a World Authors section, devoted to classic authors from foreign countries.
ME: You're hosting a Launch Party for the anthology on Friday, June 24th at Lowcountry Winery on Bay Street, right?
TJ: Yes, and I hope all your readers will come! I'll be there signing the book, along with three other authors whose stories are in the anthology. Guy Tirondola, winner of the Beaufort Tricentennial Short Story Contest, is traveling from New Jersey to be here for the launch party – his winning entry "Israel's Pig" is in the anthology. Dawn Allison, a North Carolina-based writer, will also be at the launch to sign the book, as will my fellow Beaufort-based writer Gail Westerfield, who wrote a fine work of flash fiction (also known as "sudden fiction" or "micro-fiction" or the "short-short," defined as a story written in fewer than a thousand words). If you can't attend the launch party, the book can be ordered directly from Short Story America at www.shortstoryamerica.com (you can order a signed copy), and it will also be available at The Beaufort Bookstore, McIntosh Books, Lowcountry Winery, Berry Island Cafe, and selected art galleries and merchants in downtown Beaufort. The book will also be sold at independent bookstores around the country, and at a number of Barnes and Noble stores. If you want a store near you to carry the book, have them contact Short Story America at orders@shortstoryamerica.com, or contact me directly at tim@shortstoryamerica.com. If you wish to obtain a copy in person from me, you can write to me at that address, or visit Short Story America at our new offices in Beaufort Town Center (above the Pizza Inn), or call me at 843-597-3220.
If You Go:
Launch Party for The Short Story America Anthology: Volume I
Friday, June 24th from 6 – 8 pm
Lowcountry Winery, 705 Bay Street, Beaufort
Read more Books