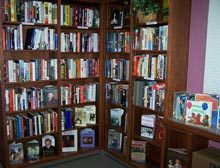 It's not just twice a year anymore!
A long-time dream of the Friends of the Beaufort County Library (FOL) has become a reality.  Through the efforts of Library Director, Wlodek Zaryczny and the downtown Beaufort Library branch staff, the Friends have established a fabulous new gently-used book store in the former Beaufort District Collection Room, located on the main floor to the right as you walk into the Beaufort library.  
Current hours operation are Tuesdays from 4:00 pm to 8:00 pm and Fridays from 1:00 pm to 5:00 pm.  The open hours coincide with the recent reduction in library operating hours resulting from budget constraints reported in the Island Packet and the Beaufort Gazette.  The Book Store staff hopes to offer Saturday hours in the near future.
FOL contributed more than $39,000 last year for unfunded programs, materials, and equipment at the Beaufort, St. Helena and Lobeco branches.  Those dollars came from fundraisers such as the annual Fall and Spring book sales.  FOL hopes to add the funds raised from the year-round Gently-Used Book Store to their annual contribution, much needed in these days of shrinking budgets.
While the annual Fall and Spring book sales will continue, in the meantime residents and visitors can now purchase books normally only available twice a year.  According to Book Store Manager, Geni Flowers, there is a large selection of excellent quality gently-used books in wide variety of interests. All books in the store are those donated by residents and visitors to Beaufort and the shelves are continually re-stocked with donated books offering affordable prices starting at just 50 cents.  How could you go wrong?  For additional information, call 843-812-3574.