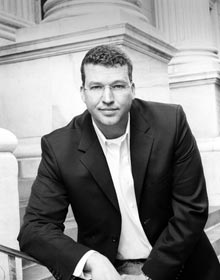 USCB Lunch With Author Series keeps bringing the heavy hitters…
Have a perfect summer treat with John Hart, the unprecedented two-time winner of the coveted Edgar® Awards for best novel and NY Times best selling author, at the USCB Lunch With Author Summer Series on Wednesday, July 20, 2011.  Hart will address his latest novel, Iron House, which will make its debut at the luncheon held at the Sea Pines Country Club.  Lunch will be served at noon.
Hart's writing has been compared to such legendary heavyweights as Mark Twain, Raymond Chandler, Pat Conroy and John Grisham.  His lyrical, atmospheric novels have been praised by everyone from Jeffery Deaver to Lee Child, many of whom saw greatness in him from the very beginning.
Iron House, the absolute game-changer of Hart's career, is the mesmerizing new novel that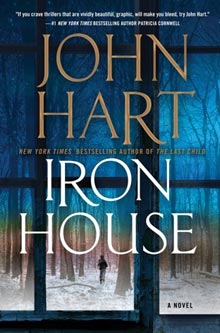 promises to make Hart a bona fide literary superstar.  An exhilarating, richly-told story that blends Hart's trademark elegant prose with breakneck action and pedal-to-the-floor pacing, Iron House combines the best aspects of his writing (vivid, gothic descriptions of his characters and their environment) with an explosive shot of adrenaline that will rope in almost any reader from the very first sentence – and keep them hooked throughout.
Iron House tells the remarkable story of two brothers raised in abject brutality and separated by a shocking act of violence at a tender age.  When a boy is found viciously stabbed in their hardscrabble orphanage high in the North Carolina Mountains, one of the brothers is accused of murder and flees, eventually finding his way to the streets of New York City and into the heart of organized crime. Two decades later—a seasoned killer—he returns to North Carolina with a sentence on his head, the mob in hot pursuit, and his long-lost brother in trouble of a different kind.  With vast sums in play, personal and political fortunes at risk, and bodies piling up, the once inseparable brothers reunite to solve the mystery of their shared past in a tour de force narrative of loss, courage, and the consequences of abandonment and violence.
The Last Child, Hart's third book, cracked the top ten on the NY Times bestseller list in both hardcover and paperback and stayed on for 25 weeks.  Along with The King of Lies and Down River, all of Hart's three books have been translated into twenty-six languages and published in over thirty countries. A former criminal defense attorney, Hart has also worked as a banker, stockbroker, and apprentice helicopter mechanic. Other than writing, his favorite job was pouring pints in a London pub.  A husband and father of two, John still lives in his native North Carolina, where he writes full-time.
The Lunch With Author series is sponsored by the University of South Carolina Beaufort Continuing Education.  Registration is necessary at 843-521-4147 or kingsley@uscb.edu. The price of the lunch, talk, Q&A, and book signing is $42.