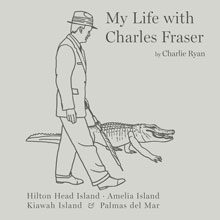 The life of Charles Fraser, the iconic developer of Sea Pines Plantation, Amelia Island, Kiawah and Palmas del Mar resorts, can only fully be told by following the stunning career paths of the young professionals he embraced and nurtured.
My Life with Charles Fraser by Hilton Head Island author Charlie Ryan and publisher Pamela Ovens is an important history of the young MBAs of the 1960s and 1970s that Charles Fraser recruited from Harvard, Yale, Wharton, the University of Chicago, the University of North Carolina, and the University of Pennsylvania. The book records in lively manner their desire to lean and build on the shores of the Atlantic. Forsaking well-worn paths into finance and traditional real estate, they hitched their wagons to the unconventional dreams of Charles Fraser.
Over a period of a year and a half, author Ryan interviewed not only the MBAs who worked for Fraser, but an assortment of professionals working in architecture, literature, entertainment and retail development. In all, 42 individuals who worked with or were closely associated with Fraser told their stories.   Those interviewed remember Fraser and their time on Hilton Head as the bedrock of their careers—careers that have changed the face of real estate development and land management in the United States.
The book follows the newly minted MBAs and other close associates of Fraser as they arrived on the shores of an island known by only a few. They embraced Fraser's insistence that man and nature could co-exist, and together they built a new model for seaside resorts—a model that was governed by land covenants that preserved beachfront property even as rows of homes with common beach access were built.
Ed Pinckney, a celebrated landscape architect of the Lowcountry, was drawn to Hilton Head by what he called Fraser's "Oasis of contemporary architecture." In the book, Pinckney remembers Fraser's audacity: "Charles found a path through thick palmettos, pulled heavy foliage to the side, and allowed us to look over Calibogue Sound. He turned to us and said, 'I'm going to build a town right there.' And, by George, he did; he built Harbour Town in 1968-1969 right on that spot."
In 1971 Peter Rummell was a young MBA from Wharton who saw genius in Charles Fraser. The Rummell chapter of My Life with Charles Frasier describes an adventurous time. "Fraser flew at 50,000 feet and God help you when he came in for a landing," Rummell says. Rummell began his years with Fraser on what was then remote Hilton Head Island—he recalls that he saw "A half mile from the William Hilton Inn this guy plowing oceanfront real estate with a mule. I thought to myself, 'You know, that's not a good sign.'
Those who worked with Fraser saw him boldly and brashly chart new territory by building championship golf courses that created prime property throughout his Plantation—property that soared in value not because of its proximity to a beach but because it was snuggled into beautiful fairways and greens of a growing national sport. The innovations were radical in the 60s and so successful they were copied by most every other beach resort in the country.
Iconic golf course designers Pete and Alice Dye and golf legends Arnold Palmer and Jack Nicklaus tell their stories in chapters devoted to Fraser's prescience that golf would draw both visitors and those who wished to live on an island that offered a paradise of golf venues. Alice Dye reveals in the book that PGA Commissioner Joe Dey asked on the eve of the first Heritage Tournament that Pete assure him sand had been placed in the bunkers of the Harbour Town course for at least six months. "Pete said, 'Sure, Joe.' Well, we had not even built the bunkers, let alone put sand in them," Alice said.
Phil Lader was a Fraser disciple who went on to a distinguished career in Washington and later became the Ambassador to the Court of St. James. In the book's chapter dealing with Lader's life with Charles, Lader recalls, "He could be irascible. Those of us who worked for him witnessed the limits of his patience, but also the twinkle in his eye." Lader relates that, "Charles was a curious blend of erudition, abandon, tenacity, impatience, entrepreneurial nimbleness, and personal aloofness."
The saga of Fraser is told abundantly and emotionally in My Life with Charles Fraser. Those who lived life with the truly exceptional visionary paint a vibrant portrait of the man that changed the world of resort living and carved for himself a place in the history of land management and environmental protection.
My Life with Charles Frasier is available at Island Bookstores and www.singlestar.us.