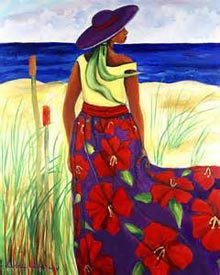 It's "Sea Island September" at the Arts Council of Beaufort County, says Managing Director Laura Maxey. "We have a very talented group of artists who are coming together to exhibit their work in our ARTworks gallery this month. It will be fun to see each artist's unique vision of the world around them," she continues.
  The show will begin with an opening reception on Saturday, September 12th from 6 to 8pm and will run through the end of the month. Artists included in the exhibit are: Sandra Renee Smith, Diane Britton Dunham, Susan Molada Madison, Mary I Mack, Sonja Griffin Evans, Hank Herring, Elayne Scott, Claudette Humphrey, and James "SAINT" St. Clair.
Although these artists are based here in the Lowcountry, many have achieved national and even international acclaim for their work. A notable example of this is Diane Britton-Dunham whose paintings have been exhibited at galleries across the US, from the Zenith Gallery in Washington, DC to the Children's Museum of Houston. She has also been a featured speaker at various prestigious universities including Drexel University in Philadelphia and the Sorbonne in Paris.
The artworks displayed in this show are drawn from a deep cultural tradition rooted in African slaves and further influenced by the often difficult socio-economic conditions of African Americans in the rural south over the past century, the pieces themselves reveal very little of the this dark past. Instead, the themes focus on everyday tasks like oystering, hanging laundry and dressing up for church. The colors, too, are almost defiantly cheerful; colorful compositions of primary colors, with pure cobalt blue skies and bold polka dot and floral patterns on the women's clothing. When asked about her inspiration, Mary I. Mack, one of the artists whose work is included in the show describes it this way "When I think of the Gullah culture, I think of things like the food, music, art, sweetgrass baskets and (hand-woven casting) nets…"
Whether drawn by the culture of the Sea Islands or attracted by the bold colors and familiar subject matter, this is a show that will appeal to both serious collectors as well as those who are looking for a piece that reminds them of the beauty of the Lowcountry.
If you go: The show runs from September 12 through September 28, with an opening reception on September 12th from 6 to 8pm. The ARTworks gallery is located at 2127 Boundary Street in the Beaufort Town Center shopping plaza. For more info, contact: 843-379-2787.