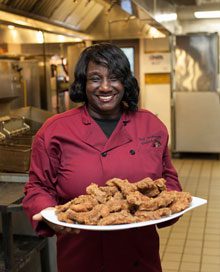 Come join the Gullah Diva herself for a special evening of cooking demonstrations and storytelling. Learn how to capture the taste of the Lowcountry as Sallie Ann Robinson leads you on a trip through the history of Gullah cuisine with stories from her native Daufuskie Island. She will demonstrate two of her favorite recipes—fried baby back ribs and Gullah crab rice—followed by a tasting and book signing. 
The event will be held on Friday, June 7, 5:30–7:30 pm, at the nonprofit Pat Conroy Literary Center, 905 Port Republic Street, Beaufort. Seating is limited for this special event. $35/person. Register in advance at https://gullahcookingdemo.bpt.me.
A sixth-generation native of Daufuskie, Sallie Ann grew up on the island where there were no local food stores. But her family never worried about where their food came from. The Robinson family started each day planning their meals for the day. "It was from our garden, the woods, or the ocean. Survival was our way of life on a bridgeless Island," Sallie Ann recalls.
Sallie Ann began cooking as soon as she could see over a wood stove. She learned the traditional practice of preparing Gullah foodways. One rule she has is never be mad when you go into the kitchen because food knows. "You should be happy and focused on the love that goes into the meal. Gullah food soothes the soul." Sallie Ann Robinson is the author of the cookbooks Gullah Home Cooking the Daufuskie Wayand Cooking the Gullah Way, Morning, Noon, and Night. She is coauthor with Jenny Hersch of Daufuskie Islandin the Images of America series and a contributing writer to Our Prince of Scribes: Writers Remember Pat Conroy.She appears as Ethel in Pat Conroy's teaching memoir The Water Is Wide.Known for her culinary expertise, entertaining presentations, and knowledge of Gullah culture, she continues to cook, teach, and write in her native lowcountry. 
All books will be available for purchase and signing after the cooking demonstration.