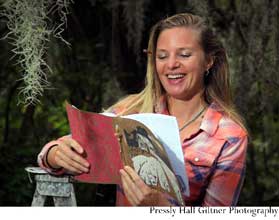 A new collection of true adventure tales has been released by local author Michele Roldán-Shaw. Rambler's Life: the South Reloaded is a hand-bound book featuring original block-printed covers, and continues an odyssey begun in the underground classic Ain't a Rambler's Life Fine: the South.
Both books recount her travels in Dixie, highlighting people and places from the everyday to the extraordinary.
The South Reloaded contains stories of the Cajun bayou, Mississippi Delta juke joints, South Carolina's Swamp Fox Trail, sacred grottos and healing springs, the set of television drama "Army Wives," Smoky Mountain gem mines, the Memphis and Birmingham hoods, Indian mounds, cotton plantations, folk art environments, pirate legends, spirit possession, sharecroppers, tribes of hillbilly moonshiners and more!
Roldán-Shaw has been a freelance journalist based in Bluffton for nearly a decade. In 2010 she started the Rambler's Life Project as a way to find a bright side to the recession, and now considers herself blessed with freedom and richness of experience. She feels so much gratitude toward all the people who have helped her along the journey.
Roldán-Shaw will read and sign copies of Rambler's Life on Saturday, December 14th from 2-4 p.m. at ARTworks in Beaufort, free and fun for all ages. Family art activities will be going on from noon to 4pm that day too. For more information please visit www.ramblerslife.com, and www.artworksinbeaufort.org. ARTworks is in Beaufort Town Center, 2127 Boundary Street 29902. 843-379-2787: art works, art fun, art now.