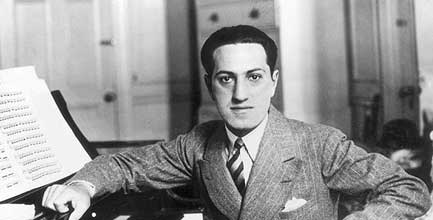 "True music must repeat the thought and inspiration of the people and the time." – George Gershwin
Even today, although we may not know who wrote it, most Americans, at least of a certain age, recognize George Gershwin's music .
We begin to sway with the opening notes of his most famous symphony, Rhapsody in Blue, we sing along with favorites, such as "Summertime," from his Charleston-based opera Porgy and Bess and many of his show tunes, such as "I Got Rhythm" and "Lady Be Good."
What we have been less likely to have heard are his piano concertos and pieces for string quartet. The December 15 USCB Festival Series concert will provide the opportunity to correct that omission by offering one of these classical pieces, an early composition, "Lullaby for String Quartet" played by wonderful musicians in the very fine acoustics of the Art Center on Carteret Street. In recognition of Gershwin's genius and as a gift to the Lowcountry audience, Artistic Director Edward Arron has positioned Mr. Gershwin between two of the grand names in classical music, and from the nineteenth century, Antonin Dvorak and from the eighteenth, Wolfgang Amadeus Mozart.
The evening's program will open with a Dvorak piece for two violins and a viola. If you were fortunate enough to have heard Aaron Boyd play Paganini during the last season, you'll be pleased to learn that one of the violins will be in his incredibly talented hands. He will be joined by the brilliant violinist Amy Schwartz Moretti , the violin prize winner of the Irving M. Klein International String Competition, and the first-prize winner of the Primrose International Viola Competition, Dimitri Murrath.
Dvorak's career spanned most of the nineteenth century, and his compositions—symphonies, operas, choral works and chamber music—have maintained their popularity with musicians and audiences throughout the twentieth and into the twenty-first century. Greatly influenced by folk music of Moravia and his native Bohemia, he also incorporated elements of Beethoven, Schubert and Wagner in his compositions. Over a thirty year period, he composed more than forty works for string ensembles. The December selection will be his romantic Four Miniatures for 2 Violins and Viola, which was written in 1887, lost for about fifty years, and then debuted to great acclaim in 1938.
Mozart's only completed clarinet quintet will conclude the evening's music. Mozart's works epitomize the clarity and balance so integral to the Classical period of the late eighteenth century, and the addition of the clarinet to the more usual string ensemble provides a haunting richness to this brilliant work. Playing the clarinet will be Todd Palmer, who since winning the Young Concert Artist International Auditions has had a varied career playing with major orchestras, chamber ensembles and vocalists in the premier concert halls of the world.
Sunday, December 15 at 5 will bring a holiday evening to remember at the USCB Center for the Arts. Give a friend a gift, give yourself a gift, contact Staci Breton for tickets at 843-208-8246; go to www.uscb.edu/festivalseries for more information concerning the artists and the Series.