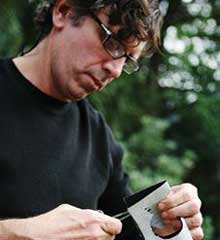 When an author luncheon includes an author who plays the guitar, sings, and will cut your silhouette with his magic scissors – and oh yes, has good food – that's a fun day you can't miss!
The USCB Lunch With Author Series on Thursday, December 12th provides the author, Clay Rice, and Moss Creek Clubhouse will provide the luncheon.
Clay Rice is one of the foremost silhouette artists in the world, having been influenced by his grandfather, legendary silhouette artist, Carew Rice. Maxine Lutz of the Historic Beaufort Foundation, wrote about Carew Rice: " Rice traveled the South 'cutting' at county fairs, civic and social events, and he created a following of the who's-who among South Carolina families in what he called "gem towns and cities in my brave little state." Although he captured the nuances of the human body in silhouette, it is his landscapes that set him apart from all other American silhouettists, perhaps because, as he wrote, he was "…in sympathy tuned to the all out-of-doors."
Clay entertains in much the same fashion as his legendary grandfather. His Christmas cheer begins
with a rendition of one of his original songs while strumming his guitar. And then out comes the magic scissors with which he creates his beautiful silhouettes, some of which appear in his latest book, Mama, Let's Make a Moon or his earlier book, The Lonely Shadow.
Mama, Let's Make a Moon is completely illustrated with his silhouette art and creates a beautifully poetic story about a humble mountain family who decides to make a moon from the materials they have available to them. Together with the mountain animals, they create the moon, roll it up the mountain, and hang it in the sky for all to see and enjoy.
In The Lonely Shadow, another silhouette art masterpiece, Clay weaves a wonderful tale about a small shadow who has lost his boy and goes in search of him. The shadow sings "I have no you and you have no me, you and me we have no we, but if I find you and you find me, happy we will always be."
Both books will be available at the luncheon as well as an opportunity to have Clay cut your silhouette to add to one of his books. Imagine the delight of the child who receives a book with Nana's or Mama's silhouette included.
Reservations for the USCB Lunch With Author Clay Rice on December 12, 2013 are made with Jo Ann Kingsley at 843-521-4147 or kingsley@uscb.edu. The price of $42 includes lunch, author's talk, a question and answer period and book signing. Lunch is served at noon at the Moss Creek Clubhouse, 1523 Fording Island Road, Hilton Head.