When Beaufort photographer Karen M. Peluso was named a winner of the 2006 SC Poetry Initiative Chapbook Contest, her collection, The Mother-Face in the Mirror, would be published by Stepping Stones Press, the publishing arm of the University of South Carolina.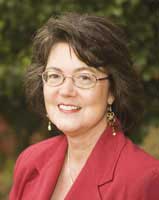 Karen didn't know then that in a few months the Initiative would name her inaugural Poet-in-Residence at Magnolia Plantation and Gardens in Charleston. On Saturday, November 8 at 2:00 p.m., the plantation will host a reading by Peluso to celebrate her residency and the resulting poems and photographs inspired by her six month position as poet. Magnolia Plantation: A Journey is scheduled for release that day, and copies will be available for Karen to sign at the reading.
Karen's appointment is part of the Poetry Initiative's Poets on the Job series, which has placed poets in positions in more than twenty five sites around the state. The Initiative's new partnership with Magnolia Plantation and Gardens resulted in the plantation-sponsored Poet-in-Residence. "I was stunned when Charlene Spearen (poet and the Initiative's Assistant Director) approached me. She asked if I would 'consider' it and said that Kwame and she thought I was a perfect choice because of my photography." So, on a sunny day last December when Karen arrived at the plantation for her formal interview with its director Preston Wilson, she stopped just inside the gates to take her first photographs. She left late in the afternoon with the job secured and the first of many photographs to be taken over the next six months. Karen didn't know that that moment captured on film would return in the lines of the title poem of her manuscript:
Stopped, I must photograph now: sun beaming through moss swaying
in live oak trees, backlit curlicues of a wrought iron gate.
The views are cliché in their art, their beauty, in their familiarity.
Yet nothing is familiar to this Northerner.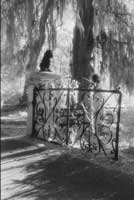 As Poet-in-Residence, Karen was required to write poems inspired by the gardens' rich history and beauty, to present poetry workshops for adults and for children and to act as liaison between the Poetry Initiative and Magnolia Plantation. Karen decided, too, that a major part of her job was to represent Magnolia's support of the arts and convey that poetry is thriving in South Carolina. "I became the poetry ambassador for the Initiative and the Plantation," Karen says. "Visitors and staff were supportive, curious and appreciative of the little poem-gifts I gave to them after we made a connection. I typed up copies of Wendell Berry's "The Peace of Wild Things" and several poems by Mary Oliver, among others, because they so perfectly captured what I hoped to convey. Magnolia oozes poetry, and even non-poets I encountered reacted favorably to words on the page—some even asked me to read them (or my own poems) to them. I loved adding another sensory element to their Magnolia experience." Some days, she says, she simply wrote in the Conservatory and spoke to tourists that wandered through. "I loved sharing what I had learned. Especially when the bleeding hearts or the ginger plants were in bloom. Most visitors, like I, didn't know what they were, and it was fun to share that newness of what the gardeners had just taught me."
Karen's six months of weekly visits enhanced by conversations and repeated tours of the grounds by foot, train and boat overflowed into more than the seventeen poems that appear in Magnolia Plantation: A Journey.
Peluso's poems and photographs have appeared in the Journal of NJ Poets, Connecticut Review, Potomac Review, Paterson Literary Review, and the new renaissance among others. A native of Orange, New Jersey, she earned a B.A. in fine arts education from Montclair State College. She began to pursue writing and photography full time in 1999 when she and her husband, writer Clinton B. Campbell, spent their first winter as snowbirds in Beaufort, South Carolina. Beaufort is now home. Karen has won the Carrie McCray Literary Award, the Lowcountry Weekly/Firehouse Books Annual Poetry Contest, and one of the poems published in The Mother-Face in the Mirror subsequently won second prize in the new renaissance 4th Louise E. Reynolds Poetry Awards. In spring 2007, an exhibit of Karen's photographs titled "Visual Poetry: Beaufort and Beyond" included her new, hand-colored gelatin silver prints and was the featured artist exhibit at the Beaufort Art Association Gallery. Peluso illustrated Sallie Ann Robinson's Cooking the Gullah Way: Morning, Noon & Night (UNC Press 2006) with images of rural Daufuskie Island. Recently, her photograph "8-Ball Eggplants, St. Helena Island" was named a winner of the 2009 Beaufort County Calendar Contest, which supports the Beaufort County Rural and Critical Land Preservation Program. Peluso is also a member of the Photography Club of Beaufort.
Karen attributes much of her success to the Poetry Initiative. "The residency provided a life changing opportunity. I had never experienced a plantation, and I was struck by how much I didn't know. Slavery was not only taught differently when I was growing up (in the 50s), but it was taught differently in the North. Now the rose-colored glasses are off, especially mine." Karen admits that she was never a scholar, particularly in history, but since moving to Beaufort, and after immersing herself in the plantation, she says, "History has come alive in unexpected ways. New facts kept me researching long and late every day. I learned that it's true—when the student is ready, the teacher will appear."
For Karen, that teacher was Kwame Dawes, Distinguished Professor of Creative Writing and Director of the USC Arts Institute and the Poetry Initiative at USC Columbia: "Kwame knew I needed to be challenged—I needed to get out of myself and my family poems. He was quiet and subtle about it, but I figured it out. Now (though I didn't know quite how) I would write about other families: like the Draytons, the Bennetts; even families of flowers, like camellias, which was surprising and satisfying. I even wrote a poem about peacocks—it's funny, and I'm not known for being funny. I learned a lot, too, about myself and especially about trusting my process." She says Dawes is a great editor, too—honest, insightful and kind—helping her achieve goals she had set for herself. Dawes had said when he announced the winners of the 2006 contest, "Karen Peluso's gathering of poems, The Mother-Face in the Mirror, has a raw tenderness to it that we leave the pages at once overwhelmed by what we have been made to witness and still somehow elevated by the experience. Her gift is the ability to discover just the right detail to take is to the heart of the matter. This is no small gift for a poet…Her poetry is beautifully written and elegantly crafted."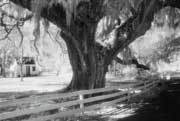 Months after Karen's first chapbook was released, bookseller Will Balk from Bay Street Trading Company wrote in "News from Will," the store's online column: "Karen's poems – as good poems do –capture a precise detail of experience or of surroundings and hone our perception of that experience or object. The poem itself becomes a way of transferring that experience. In an essay on Karen's work, the noted poet Kwame Dawes called her poetry 'a celebration of the imagination.'"
Karen Peluso's new collection, Magnolia Plantation: A Journey, has received early praise by poet Cathy Smith Bowers, author of The Love that Ended Yesterday in Texas. Bowers says,
"I can't quench my thirst for information, for facts, for my need/ to get things right," proclaims Karen Peluso in the title piece of this brave collection of poems and photographs.
Here is the heart and voice of a deeply humane artist determined to see this place and time through non-judging and benevolent—though painfully lucid—eyes.
This poet's journey into the history of Charleston, South Carolina's Magnolia Plantation and Gardens is a stunning though difficult one, but with Karen Peluso as our guide we reach our destination more informed, more enlightened, more compassionate than when we started."
The plantation photographs that illustrate the book were taken with infrared film, which Peluso now prefers for her art. She says, "The film reads light in way that produces a dreamy, ethereal, antique-y quality that I love. By varying exposure I can enhance or decrease the infrared effect. I'm still experimenting with it." New Jersey critic Ed Wismer has said, "Karen Peluso's medium is black and white film. Her degree in fine arts education has served her well, as can be seen when viewing her atmospheric and poetic photographs. Her literary work also shows a strong influence in her choice of subject matter and its treatment." He added, "Just words cannot describe her often-haunting photographs. She takes everyday places and things and turns them into something exceptional."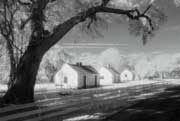 Another supporter of Peluso's work is Marjory Wentworth, South Carolina Poet Laureate and author of Noticing Eden and Despite Gravity. Of Karen's first book, Wentworth said, "These poems do not flinch or back away from the hardest human truths … But there is redemption in this collection of poetry, which articulates and celebrates our capacity to survive and love, despite our losses and collective pain."
Karen Peluso's reading and reception will be Saturday, November 8 at 2:00 p.m. at Magnolia Plantation and Gardens located at 3550 Ashley River Road in Charleston. The event is free with paid gardens admission. Group rates are available. Admission for Plantation members is free. For additional information, call 843-571-1266.
Magnolia Plantation: A Journey
I drive through Magnolia's gates: I arrived, my idealism intact—
the dial of my social consciousness set at 4, or maybe 3 on a scale
of 1 to 10. 10 the most proactive.
I stop, inhale: new fragrance of flowers I do not recognize.
Stopped, I must photograph now: sun beaming through moss swaying
in live oak trees, backlit curlicues of a wrought iron gate.
The views are cliché in their art, their beauty, in their familiarity.
Yet nothing is familiar to this Northerner.
I have never been to a plantation. For more than 50 years I lived
in the "Garden State," New Jersey. Magnolia on the Ashley River,
over three centuries old, farmed rice, plus cultivated gardens of camellias
and other plants, imported from Asia through my native New Jersey ports.
Kidnapped and enslaved people were forced to clear, carve, drain, hoe,
weed, flood and plant, to grow rice in this coastal woodland
from seeds brought from their homes in Africa or Barbados.
And so they planted a piece of their homeland.
Quickly, I don't recognize myself. I collect oral histories; recollections
are found treasures. I inhale mildew and must of books and manuscripts,
searching, writing; so much to sow and plant in my brain, it aches.
It seems I've been wandering a desert, and now so thirsty,
I can't quench my thirst for information, for facts, for my need
to get things right. I find ideas are weeds, tall and unruly,
to hack back and control, but in spite of my ignorance, sometimes
a bloom of knowledge springs up—a purple African lily.
I discover that more slaves came through the port of Charleston,
South Carolina than anywhere in the world, and that slaves, human
backhoes, moved more dirt to build Lowcountry rice paddies
than Egyptians moved stones to build the pyramids.
I mull over this watching gardeners work in near 100-degree heat.
Cologne of Chinese wisteria wafts; masses of Grackles cackle.
I will find that I can barely walk these paths on days in May or June
and will wilt like cut June roses (even if I were 30 years younger).
I feel minuscule in the infinite story here—
merely a puff ball of the dandelion. My poet's words,
seeds scattered in river breezes, will disappear,
and may or may not take root, even in this soil of change.
But I will sow them.
– Karen Peluso, From Magnolia Plantation: A Journey