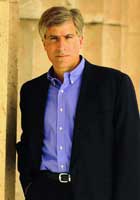 When the Lowcountry pulls off a coup, it's always a big one, and when the University of South Carolina Beaufort was selected to sponsor the Steve Berry History Matters Writer's Workshop, it was an impressive coup for the Lowcountry!
On January 17, 2011, the 300
th
anniversary of the town of Beaufort, Steve Berry, international and New York Times bestselling author, will spend 3 hours teaching aspiring authors how to hone their craft and become bestselling authors.  The Steve Berry Writer's Workshop will be held at the Holiday Inn Beaufort, 2225 Boundary Street, Beaufort, from 1:30 – 5:00 pm on Monday, January 17, 2011.  Registration is $95 and must be made through Jo Ann Kingsley, 843-521-4147 or
kingsley@uscb.edu
.
Steve Berry, one of today's most popular and successful authors, has over 11 million books worldwide and
knows how to keep readers turning the pages. An accomplished instructor, he has taught writing to audiences around the globe.  Berry will teach the craft of writing, including the Four "C's" of story structure, effective dialogue, point of view, and the all important 10 Rules of Writing in three 50-minute sessions, followed by a Q & A session.  Berry's road to publishing was long and arduous, spanning 12 years and 85 rejections over 5 separate manuscripts. He understands both the 'thrill of victory' and the 'agony of defeat'.
Berry, who lives in Georgia, started to write manuscripts in 1990, when he was 35 years old, and spent six years as part of a local writers' group. In a recent interview, he said, "You read your work out loud and everybody destroys it… about 75 percent of what you hear in a writers' group is pure garbage and about 25 percent is pure gold. The key is how you know which is which. It took me about three years to figure that out.  You have to work at your craft every day," he said. "Writing is a discipline, not an obsession."
History Matters is a foundation begun by Steve Berry and his wife Elizabeth when through their travels, they realized that the low global economy is affecting historic preservation.  By offering Writer's Workshops worldwide, Steve is helping to provide funding for communities and organizations committed to historic preservation.  All the proceeds from the Writer's Workshop will benefit the Old Beaufort College Fund for preservation of buildings on the historic Beaufort campus dated 1852, 1880 and 1900 respectively.
National Public Radio did a survey this summer of the 100 best thrillers ever written and Steve Berry's The Templar Legacy was chosen as #82 with 117,000 people responding to the poll.  Steve Berry is the New York Times bestselling author of The Emperor's Tomb, The Balkan Escape, The Paris Vendetta, The Charlemagne Pursuit, The Venetian Betrayal, The Alexandria Link, The Templar Legacy, The Third Secret, The Romanov Prophecy, and The Amber Room.
Preceding the workshop on Monday, January 17, 2011 is a USCB Lunch With Author event with Steve Berry speaking and answering questions.  This is separate and not included in the workshop.  The luncheon is also at the Holiday Inn Beaufort, starting at 11:30 am.  All-inclusive price is $42 and registration is at 521-4147 or kingsley@uscb.edu.