The nonprofit Pat Conroy Literary Center will host an evening with writer and actress Kim Poovey, author of the historical novel Shadows of the Moss, in conversation with Conroy Center executive director Jonathan Haupt on Tuesday, July 12, at 6:00 p.m. at the Conroy Center (601 Bladen St.).
This event is free and open to the public. Books will be available for sale and signing. Seating is limited; please call to reserve your spot: 843-379-7025. The author conversation will also be live-streamed on the Conroy Center Facebook page.
ABOUT SHADOWS OF THE MOSS
"This captivating saga instantly draws readers into Irish immigrant Maggie McFarland's quest to find her own self-worth in a new land where men claim others as property. As Maggie's journey takes her from mid-19th century Ireland to Pennsylvania and south to the Carolina Lowcountry, she learns that her own trials and gifts offer her a unique perspective on the value of freedom and just what constitutes a real family. Thought-provoking and inspiring!"–Susan Diamond Riley, author of The Sea Island's Secret and The Sea Turtle's Curse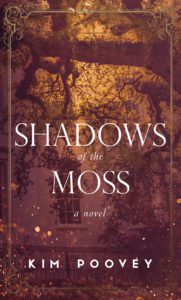 With famine raging in Ireland, Maggie's father makes the painful decision to send her to stay with family in America. Her excitement quickly fades when her uncle's hostility and contempt threaten her life, compelling her to run away. Facing starvation in an unknown country, Maggie is rescued by a family with a secret of their own. She's introduced to the Underground Railroad where her faith in humanity is restored. However, her uncle's hatred runs deeper than she realized, forcing her to flee south where she must choose between love and loyalty while struggling with her own internal battles. How long can she hide before her uncle's relentless pursuits destroy her and those she seeks to help?
Kim Poovey is an author, storyteller, and living historian. Her books include Truer Words, Through Button Eyes: Memoirs of an Edwardian Teddy Bear, Dickens' Mice: The Tails Behind the Tale, and The Haunting of Monroe Manse.Kim resides in a haunted 1890s Victorian cottage in Beaufort with her husband, Darryl, and their furry children.