How does Kathryn Wall keep putting out one great Bay Tanner novel after another? Editor's Note: I can hardly believe it! Hilton Head's own Kathryn Wall is back with the ninth book in her Bay Tanner mystery series. The ninth book! How vividly I remember devouring Wall's first Bay Tanner mystery over a couple of sleepless nights while uncomfortably "great with child." I am amazed at how quickly those books have piled up (that child is not yet eight!), and each one better than the last. At press time, I was right in the middle of Bay's latest adventure, entitled Covenant Hall, and glad to be back in the company of a character who feels like an old friend by now. If you're a fan like me, you won't want to miss this latest installment. If you've not yet discovered this sharply-written, compulsively-readable series – set right here in the Lowcountry – there's no time like the present. Kathy will be signing books at Bay Street Trading Co. in downtown Beaufort on Saturday, May 16th, from 1 – 4 pm. She's as charming as she is talented, so come on down, y'all.
– Margaret Evans

About Covenant Hall: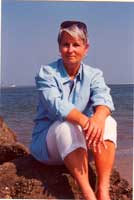 When private investigator Bay Tanner is hired by a young mother to track down her estranged family, she realizes the stakes couldn't be higher. Kimmie Eastman is dying of a rare form of leukemia, and familial bone marrow seems to offer her only hope. But the clues are sparse – a single photograph and a small pile of decades-old letters. And Bay's gut feeling that the girl's mother isn't being entirely truthful. With little time and less hope, Bay plunges into the chase.
For once, Bay isn't at odds with her fiancé, sheriff's sergeant Red Tanner, over her current case. But she does find herself looking for excuses not to wear his ring, and she welcomes her immersion in the hunt for the Eastman girl's family as a way of avoiding her ambivalence about marrying her murdered husband's brother.
Then a phone call sends her racing to the hospital where her father, invalid Judge Talbot Simpson, is battling a failing heart. Searching for his medical power of attorney in his personal files, Bay encounters a document that completely stuns her. How could her father have kept such a shocking secret from her? Has her entire life been based on a lie? Desperate for answers to her own personal mystery, she stumbles across another clue, this one in the possession of Lavinia Smalls, her father's longtime companion and caretaker and the one person Bay thought she could trust completely.
With time running out – perhaps for her father as well as the girl – Bay struggles to untangle the web of secrets and lies surrounding both her own family past and that of the dying child . .. until she encounters the strange women of Covenant Hall, who may well hold the key to everything.