Julie McLaughlin will be signing copies of her new children's book, Mr. Gator Hits the Beach, at Bay Street Trading Co. in downtown Beaufort on Saturday, May 23 from 1 – 4 pm.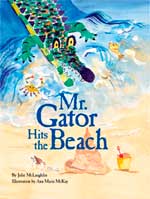 Inspired by an alligator and other animals in her backyard lake in Mount Pleasant, Julie has now written three Mr. Gator books (Legacy Publications). The first book, Hungry Mr. Gator, is a counting and rhyming book for pre-school -1st grade children. The second book, Mr. Gator`s Up the Creek, is for pre-school – 2nd grade, and Mr. Gator Hits the Beach is aimed at children pre-school – 3rd grade.
In this newest addition to the series, we find Mr. Gator bored with his summer on the lake, and accepting a surprise invitation from his old friend, Big Al, to vacation at his place on Bull Island. Mr. Gator's plans are interrupted when he meets Lilly, the loggerhead turtle. Intrigued with Lilly's talk of the ocean, Mr. Gator decides to take a detour and follows Lilly to the Atlantic Ocean for a swim. Nothing but trouble awaits, and Mr. Gator finds once again, there's no place like home.
Julie McLaughlin grew up in the South Carolina Lowcountry enjoying the beaches and creeks each summer with family and friends. A retired elementary school teacher, she now enjoys sharing her love for the S.C. coastal region and its fascinating wildlife through her stories for young children and the young at heart. She is a member of the Coastal Conservation League and the Society of Children's Book Writers and Illustrators.
Julie and illustrator Ann Marie McKay, travel throughout the state presenting educational sessions to schoolchildren and at conferences with their books. Julie divides her time between Mount Pleasant, S.C. and the mountains of North Carolina with her husband Tom.
For more information about Julie McLaughlin's book signing, call Bay Street Trading Co. at 524-2000.