As a part of the Annual Spring Fling in Downtown St. Helena Island, Corners Community, the Red Piano Too Art Gallery is honored to host an exhibit by fine artist, Henrimae H. Bell.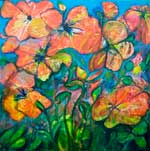 Bell realized her love for painting during her early childhood in the small town of Cordele, Georgia. Her adolescent years were spent between Georgia and Florida; it was in these two environments that her love of travel and her desire to experience different cultures and lifestyles were nurtured.
Henrimae attended Albany State University in Albany Georgia and is a graduate of Iona College in New Rochelle, New York. She holds a BS from Iona College and a certificate in Graduate Business Management from Pace University.
The artists' palette is multi-media, focusing on watercolor, oil and mixed media works. The collection of work speaks for itself. The vibrant hues that Henrimae has chosen for her flower gardens are wonderfully attractive and inviting. In other compositions she incorporates bold angles and dark tones adding a sense of "Power" and significance to pieces like "A Word Of Prayer" and "Sundays In The Motherland". Henrimae's Sunday or Lady's In Hats series are all stunningly- graceful and elegant; they automatically calm the viewer and take them to a place of peace and tranquility.

Henrimae is the founder of "Reflections By Henrimae," located in New Rochelle, New York, offering elegant and unique products that incorporate her designs and creations of art. You can find "Reflections By Henrimae" art and products in several Art Galleries in Westchester County, New York, Melbourne, Florida and locally at the Red Piano Too Art Gallery on St. Helena Island.
Henrimae is retired from IBM, where she gained excellent management skills and travel experience (leading a worldwide team which spanned across the United States, France, Germany, United Kingdom and Asia). Since retiring, she continues to travel throughout Africa, Greece, Israel, Italy and the South Seas. Her works reflect her travel and interaction with various cultures.
She has studied with several very well known artists: Traditional Art in Florence, Italy with Professor Andrew Latterimore, with Professor Stan Lapper at Iona College in New Rochelle, New York, the Westchester Art Center in White Plains New York and the Brevard Art Center and Museum in Eau Gallie, Florida with Dutch painter, Frits Van Eeden.
Henrimae's artwork is sought-after by new and established collectors, who wish to add unique works of art to their collection. Her current works include abstract portraits of women displaying traditional hats and headdress of glamour and prestige, reflections of a recent safari to Timbavati Private Nature Reserve in South Africa, and soul-touching traditional and contemporary still life's.

Some of the collectors of her works include Earl Graves, Sr. Founder of Black Enterprise Magazine, Reverend Dr. W. Franklyn Richardson, Senior Pastor Grace Baptist Church, Mount Vernon, New York, Kenneth Woods of Sylvia's Restaurant, New York, NY and William Lighten, Retired Chairman and CEO, Lehman Brothers Bancorp Inc., New York, NY.
The Red Piano Too Art Gallery exhibit will feature approximately 20 –30 fine paintings by Bell and will hang from May 18 through June 30. The collection will feature a cross section of her work. A meet the artist reception will be held from 10:00 AM to 5:00 PM on May 23 as part of the Annual Spring Fling in Downtown St. Helena Island / Corners Community. The event is free and open to the public. For more information call the Red Piano Too Art Gallery at (843) 838-2241,
e-mail: redpianotoo@islc.net or check out our website: www.RedPianoToo.com