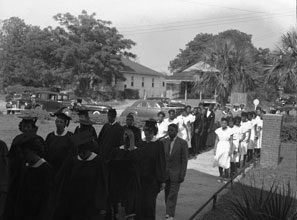 The Mather School Alumni Beaufort Chapter is celebrating 150 years of educational excellence with "Remembering Mather: Honoring The Legacy," a series of special events taking place February 22 – 24.
Founded in 1867 to educate the daughters of freed slaves, the Mather School was an institution ahead of its time in more ways than one. Rachel Crane Mather opened the school during Reconstruction and the Port Royal Experiment. Many of our nation's great colleges and universities would not admit women for decades to come, and in some cases, for over a century. In 1881, the school became part of the New England Baptist Missionary Association and continued educating area African-Americans until 1968. In 1969, the school closed and the campus became home to what is now The Technical College of the Lowcountry.
As part of the Mather School Sesquicentennial Celebration, gifted storyteller Cora Newcomb, in the persona of Rachel Crane Mather, will speak of the profound sense of community, religious devotion and commitment to academic excellence and character-building experience that was provided by the Mather School. Newcomb will introduce the kick-off event Thursday night, in the TCL Auditorium at 7 pm. Other weekend highlights include:
Thursday, February 22 at 7 pm, TCL Auditorium – An Evening of Jazz and Blues with the Earl Fleming Trio, featuring Dr. Marlena Smalls
Friday, February 23 at Noon, TCL Beaufort Campus – Mather History Education Day/Bell Ringing
Friday, February 23 at 7 pm, Holiday Inn & Suites – 50/150 Celebration Semi-Formal Gala, with the Lavon Stevens Duo, vocalist Louise Spencer.
Saturday, February 24 at Noon, Holiday Inn & Suites – Opening Ceremony Luncheon, keynote speaker US Congressman James E. Clyburn
For more information about the Mather School Sesquicentennial Celebration, visit www.MatherSchool.com or call 757-420-1727.