The Beaufort Bookstore, in partnership with the nonprofit Pat Conroy Literary Center, will host an evening with novelist Polly Stewart, author of The Good Ones, in conversation with retired FBI special agent turned thriller writer Dana Ridenour, author of the Lexie Montgomery Series. This free event will be held on Thursday, June 29, at 5:00 p.m., at 2127 Boundary St., Ste 15. Books will be available for sale and signing. Please call Beaufort Bookstore to reserve your seat: 843-525-1066.
"Polly Stewart's The Good Ones is a fantastic achievement. A classic Southern Gothic tale told through the prism of modern-day sensibilities. Not to be missed."—S. A. Cosby, New York Times bestselling author of Razorblade Tears
"Smart, dark, and suspenseful, The Good Ones skillfully navigates the sharp edges of small-town secrets that cut deep. A beautifully written mystery that'll keep you guessing til the end."—Laura McHugh, award-winning author of What's Done in Darkness
About The Good Ones
The last time Nicola Bennett saw Lauren Ballard she was scraping a key along the side of a new cherry-red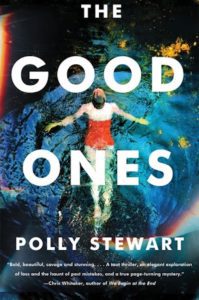 Chevy Silverado. That was the night before her friend mysteriously vanished from her home, leaving a bloodstained washcloth and signs of a struggle—as well as her grieving husband and young daughter—behind. Now, nearly twenty years later, Nicola, newly unemployed and still haunted by the disappearance of her childhood friend, is returning to her Appalachian hometown. For Nicola, Tyndall County has remained frozen in time. Everywhere she turns she's reminded of Lauren. Yet shockingly, her former friends and neighbors have all moved on. Drawn to stories of missing girls, Nicola obsessively searches the internet, hoping to discover a clue to Lauren's ultimate fate.
Driven by a desperate need to know what happened to her friend, Nicola takes a job in her hometown, determined to uncover any bit of information, any small clue, that can help. Deep down she knows the answers are tucked in the hollows and valleys of this small Blue Ridge county. As secrets come to light and the truth begins to unravel, will Nicola finally find release and break free of the past—or lose herself completely to unanswered questions from her adolescence?
Polly Stewart is the author of The Good Ones, newly published by Harper Books in June 2023. As Mary Stewart Atwell, she's also the author of Wild Girls (Scribner 2012). Her essays have appeared in the New York Times and Poets & Writers, among other publications. She runs the Craft of Crime Fiction interview series, formerly published on Fiction Writers Review and now appearing on Instagram.