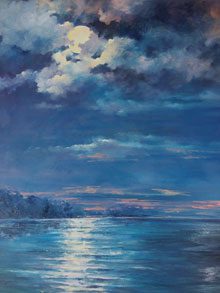 Peggy Ellis returns to Art League Academy to teach Creating Oil Paintings that Glow. In this workshop, you will learn how to trust your creative instincts and allow the process to guide you. Discover how to channel passion into your paintings by using special techniques with brush and palette knife.
Learn the importance of a powerful focal point to add strong contrasting values that make your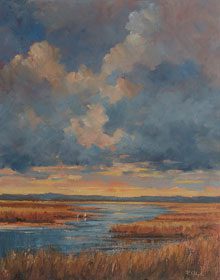 paintings "glow." Possible subjects to include sunrises, moonlight, seascapes and marshes. 
"Peggy Ellis is a genuine, caring instructor who communicates her passion for art through a deep sense of her artistic heritage. This is a workshop that you do not want to miss." shares Nancy Vineburgh, Academy student.
This three-day workshop will be held from Wednesday, September 19 through Friday, September 21, from 9:30am-3:30pm each day. The price for the workshop is $315 for Art League of Hilton Head members and $350 for non-members. Those interested in registering or acquiring more information should call 843.842.5738 or email academy@artleaguehhi.org. Art League Academy is located south-island at 106 Cordillo Parkway, Hilton Head Island, 843.842.5738, www.artleaguehhi.org