In partnership with Buxton Books of Charleston, the nonprofit Pat Conroy Literary Center will host a virtual visit with bestselling novelist Jamie Ford, author The Many Daughters of Afong Moy, a newly named selection of the Today Show's Read with Jenna Book Club. This special event will be presented on Zoom and live-streamed on the Conroy Center's Facebook page. Signed (bookplated) copies of The Many Daughters of Afong Moy will be available through Buxton Books.
The free event will be held on Thursday, October 20, at 5:00 p.m. Register in advance to attend on Zoom: https://aneveningwithjamieford_buxtonbooks.eventbrite.com
"Fans of The Hotel on the Corner of Bitter and Sweet rejoice: Jamie Ford has done it again. The Many Daughters of Afong Moy is a searing and vibrant epic of generational love, trauma, and healing. In his trademark poignant prose, Ford breathes Afong Moy and her descendants to life with dimension and power. This is a book that will stay with readers and reshape how they engage with their own lives and legacies. To read it is to be transformed–and to transcend."—Qian Julie Wang, New York Times bestselling author of Beautiful Country
New York Times bestselling author Jamie Ford is back with an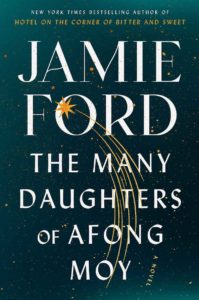 impressive multigenerational, multicultural, and utterly unique story. Spanning three continents and more than 250 years, Jamie brings us back and forth across the ocean from China to Baltimore, from San Francisco to England, and finally a future Seattle, illuminating key moments of forgotten history, seen through an Asian American lens. In the vein of such beloved authors as Lisa See, Matt Haig and Min Jin Lee, The Many Daughters of Afong Moy tells the story of seven generations of women who find themselves affected by the trauma and love woven throughout their family's DNA. An epigenetic love story built around the fictional descendants of a very real person, Afong Moy, the first Chinese woman to set foot in America in 1832, the premise of The Many Daughters of Afong Moy is captivatingly historical with a speculative spin.
Jamie Ford is the great-grandson of Nevada mining pioneer Min Chung, who emigrated from Hoiping, China to San Francisco in 1865, where he adopted the western name Ford. His debut novel, Hotel on the Corner of Bitter and Sweet,spent two years on the New York Times bestseller list and went on to win the 2010 Asian/Pacific American Award for Literature. His work has been translated into thirty-five languages. Having grown up in Seattle, he now lives in Montana with his wife and a one-eyed pug. https://jamieford.com/
Learn more about the Pat Conroy Literary Center: www.patconroyliterarycenter.org. And learn more about Buxton Books:www.buxtonbooks.com.