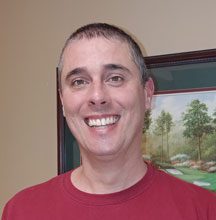 The following article was adapted homework from a session a colleague conducted on me about two years ago. It's beneficial personally and my duty as an energy worker to keep growing and working on myself. I always try to follow the biblical adage of "removing the beam from my own eye before attempting to remove it from my brother's eye." The modern day equivalent is "place the oxygen mask on your face first before helping others." To do otherwise is reckless.
The objective of this assignment is to write it as if what's described here already exists. Some of it does . . . or we're not so far away from our hopes and dreams as our "rational mind" would have us believe…

At 34, I became a stay-at-home father. This granted me the time, maturity, and discipline, to complete a novel. I knew in my heart that even though being full-time with a newborn was a daunting, albeit rewarding, job, I now had certain pockets of time that didn't exist before. I felt that if I didn't write that novel then, it would become a deathbed regret. At this point, I was only focused on finishing the novel in long hand. So, at the end of six months, I'd completed my life's goal of writing a novel. Was it publishable? Nooo, but that wasn't my aim—at first. Then I decided to see what I could make of the baby I'd just birthed while watching my own flesh and blood grow, coo, and blossom.
         The writing and revision process was arduous, but I actually enjoyed it. The submission process, not so much. As it turned out, the submission process (the literary world's version of waterboarding) was a barrier to entry no different from other businesses. It did, however, take a little longer than their usual glacial pace to figure out what to do with me. I mean, really, Mr. Mom Reiki Master Real Estate agent writes a book with a woman as the lead character in the genre of magical realism? It was actually anti-climactic when I got the email about my upcoming publication as I was riding high in a new career I was passionate about. Thankfully, my publicist friend knew her stuff and put me in front of every opportunity I needed to make things turn out better than I could have possibly imagined. What I didn't anticipate was the response. (In retrospect, what's not compelling about a woman who has it all, thinks her poop is an aphrodisiac, then takes a fall in the shower and finds her humanity?) Then my sophomore book defied the sophomore slump rule as much as it defied logic.
            As I sit here on our newly developed mountain retreat listening to the water flow into Rhue's pond, I note that I'm writing from my very own writing cabin. 400 sq. ft. of introverted glory. Parked out front is the Jeep Rubicon I always wanted as my sports car.
            If I really think about it, it's really not all that long ago that we were paycheck to paycheck. These days we've fulfilled our longtime dream of six months on Fripp and six months at the family mountain retreat.
            I travel sometimes to support the book, but usually only when it's convenient or I want to go somewhere I've never been before. Ironically, a little mystery has driven book sales. I only focus on the fact that money is there when we need it and we've got waaay more than we need. Every now and then we do something extravagant. Last year we went on a month-long golf tour of Great Britain then did it up in Europe proper. My family and I are still healthy as well as having a healthy appreciation of one another's company.           
            That said, this lifestyle allows me to enjoy ample doses of introvert time that I'm using to pen my next book. Next week I leave for a month-long immersion writing fellowship in Utah.
            All of this is due to just taking the time to follow my dream and taking the time to get clear-headed about said dream. Sometimes it's just simply about putting down the bottle or bowl for no other reason than not having put them down in a while. It's very revealing what you miss and don't miss. What you yearn for and spurn crystalizes with a clear head.
           Some things haven't changed and one of them is feeling I'm at my best helping people one on one in the intensive session arena. For a while during the transition from my old life to my current life, I worked for the PGA and LPGA tours as well as my alma mater helping athletes with their emotions. It's amazing how emotions ignore or suppress innate abilities, and how it affects a golf swing or whether or not an athlete can run a 4.4-40.
          "Golf swing coach" is what the pros on tour kindly called me because of the results they achieved, but it is definitely not that accurate, since I only grasp the concepts of what a swing should look like or what is pleasing to my eye. Couples yes, Palmer not so much, but who won more? I digress.
           My innate listening abilities only heightened as the years rolled by and I naturally mixed other modalities with abilities that can only come from regular meditations. I had been using these abilities for years to help people help themselves with everything from Parkinson's to body image issues, so why couldn't I apply my techniques for a golf swing, for emotional course management? It was an angle that no one had applied before in exactly the same way that I could. Ironically, what led to my discovery on the tours was a highly-placed individual randomly reading my short story lifted from my novel about Augusta National. Heaven is Augusta Green got me my first energy work gig on tour.
          This fame within niche circles only fed my writing career. With celebrities, confidentiality is at a premium, so I signed any confidentiality agreement they set in front of me. The bonus for them was my memory of what transpires in a session always gives me a Quantum Leap Swiss cheese brain quality.
          I love and loved my individual work and the connections I'm forever grateful for, but to fulfill my life's purpose of serving, I needed the wider swath that the books created. The individual Sutty is not separate and must not separate, but whole as he is. It all feeds itself and me in the process.
Since the above homework assignment, I have become a published author, so who knows what's next in my life of manifesting my dreams or something better? I know one thing, I intend to keep writing my dreams into reality.
Chris (Sutty) Suddeth was born in Greenville, SC in 1975 and has lived his whole life in various locales within the state of South Carolina. He graduated from the University of South Carolina in 1998 with a minor in English Literature. Writing began its siren song for him at the age of twelve while he was sitting on the rocks of Fripp Island, SC where he now lives with his wife and daughter. Sutty is a full-time Mr. Mom with his own holistic health business. Sutty has been a practicing Reiki Master and emotional energetic alchemist since 2010. He uses his passion and proficiency with energy work to inform his writing and has just welcomed the traditional publication of his novel, Swoondalini, into his life. Visit www.soulshinerefinery.com for more information.