A novel of political fiction and memories of a Southern woman rice planter make the agenda for the next two reviews of the popular Books Sandwiched In program.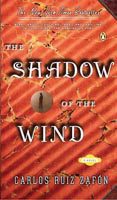 Sponsored by The Friends of the Beaufort County Library, the program is being held this year at a different time – 1 p.m. instead of noon – and a different place – Sea Island Presbyterian Church on Lady's Island.
Linda Tarr-Whelan of Dataw will review "The Shadow of the Wind" by Carlos Ruiz Zafon at the Jan. 14 session.
Fran Heyward Marscher of Bluffton will review "A Woman Rice Planter" by Elizabeth W. Allston Pringle and Alice R. Huger Smith at the Jan. 21 session.
The program continues every Monday through Feb. 25. Upcoming reviews include:
– Jan. 28, "Court-Martial at Parris Island: The Ribbon Creek Incident" by John C. Stevens and reviewed by the author, of Beaufort.
– Feb. 4, "A Thousand Splendid Suns" by Khaled Hosseini, reviewed by Roxanne W. Chaney of Beaufort;
– Feb. 11, "The Toughest Show on Earth: My Rise and Reign at the Metropolitan Opera," by Joseph Volpe, reviewed by Jerry Fleischman of Hilton Head;
– Feb. 18, "Middlesex: A Novel" by Jeffrey Eugenides, reviewed by Gail Westerfield of Beaufort;
– Feb. 25, "Savannah Grey: A Tale of Antebellum Georgia," by Jim Jordan and reviewed by the author, of Callawassie.
Committee chairwomen for the Books Sandwiched In program are Marilyn Harcharik and Heather Jarvis.