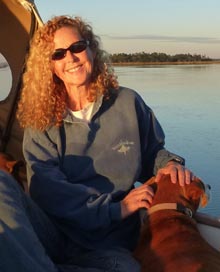 Ellen Malphrus unties the moon . . .
By Margaret Evans, Editor
Lowcountry native Ellen Malphrus – published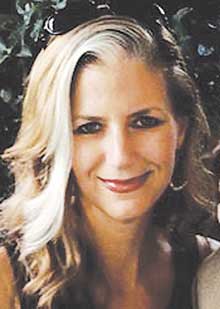 poet, professor of English, possessor of fabulous hair – will launch her debut novel Untying the Moon on the afternoon of Friday, October 16, at the Heyward House in Old Town Bluffton. Joining Ellen will be her friend Pat Conroy, who, when not laboring over his own bestsellers, moonlights as editor-at-large for Story River Books. With splendid novels like Ellen's and a host of others on its list, Conroy's southern fiction imprint with USC Press is proving to be 'the little label that could,' having rapidly made a name for itself in literary circles far beyond South Carolina.
            I've known Ellen Malphrus for years and had hoped we could get together for a long, wine-fueled conversation before her book launch party. Alas, life being what it sometimes is, we had to settle for an email interview instead. But even through that impersonal medium, Ellen's voice rings warm and true and absolutely Ellen . . . much as it does in her debut novel.
            Margaret Evans: Ellen, while reading Untying the Moon, I was very much aware that I was reading a novel written by a poet. The lush precision of the language was just one of many hints. What are some of the particular challenges that a poet faces when she attempts to become a novelist? 
            Ellen Malphrus:There's no doubt that what I know about poetry colors all that I write.  I suppose Untying the Moon, in ways, came to be written like a poem by the time I finished it. What you hold in your hands now is pared down from a much larger manuscript – several hundred pages distilled into 184. I worked to tighten paragraphs, then I worked to tighten sentences into a story that, if I'm fortunate, will resonate with readers.
            This is something that you see in a writer like Ron Rash, where you find passages of fiction that read like prose poems. There's genius in Ron's writing, yes, but he has also taken the time, done the work to strip it down to the bones.
            I didn't see it as a challenge while I was working on Untying the Moon, but your question makes me realize something important about having written the novel this way – that while there's pleasure in a "quickie," of course, my hope is for readers to open themselves instead to a slow seduction. ("Please don't go tearing through this," I wish I could write on a little note on page one, "especially those of you who know me and can't wait to see who gets mentioned.  It's not about us.")
            ME: Isn't it? The book's heroine, Bailey Martin, is a fascinating character. (And – ahem – vaguely familiar.) I'm wondering how much of this Carolina-rooted, river-loving road warrior is Ellen Malphrus?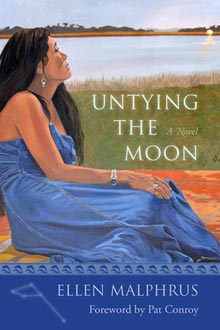 EM: Well . . . Bailey Martin drives a '67 Buick Skylark convertible named Blue Ruby, and I have a '69 Buick Skylark convertible named Maybelline – so there's that.  She is a child of the Carolina Lowcountry, as am I, and salt water runs through her veins as it does through mine. She's deeply rooted to home, home folks and home places, but she has a gypsy spirit, if you will, a wandering bone that causes restlessness.  Ditto Ellen. We diverge at the point where Bailey's restlessness leads her down darker, edgier, more dangerous roads than those I usually travel.
            ME: According to your bio, you spend part of your time "beside the May River" in the South Carolina Lowcountry and the other part "beneath the Madison Mountains" in Western Montana. Your love of the natural world shines on every page of this novel. How important to your writing life is this river/mountains dichotomy?
            EM:It's true that I'm far more comfortable in the natural world. A.B. Guthrie has a character from the 1800's bemoan that he's hung up in St. Louis waiting for supplies before striking out for the territories.  "I don't hanker for no ant hill," the guy says, and I feel the same way. While there are cities, large and small, that I love – New Orleans, San Miguel de Allende, Florence (It'ly that is, not South Carolina), Seville, Venice, Paris, for instance – I just prefer to be outside in fresh air where I can watch and listen and simply be amongst what really matters. In Montana I don't have running water or electricity, but our tiny one room cabin sits on sixty acres and is nearly surrounded by public lands. Space is what I need, room to breathe, and I'm very fortunate that I get that both around the water here in the Lowcountry and around the mountains out west. I'm fortunate too that my husband is of the same mindset.
            So, to answer your question, I think it has most to do with being in sacred, nurturing places, wherever those are. I was in New Mexico this summer and was very much alive and grounded there as well. And I certainly feel that way in the blue waters of the Caribbean. I will say about the river/mountain dichotomy that my perspective on one when I'm in the other affects how I write about each. A number of key passages in Untying the Moon, which is mostly set in the Carolina Lowcountry, were written while I was holed up in Montana.
            ME: Though very much grounded in modern reality and the physical world, there is something about this book that feels almost "mythic"… almost as if you're telling a very old story about archetypal figures. Am I off base?
            EM: No, you're not off base, and I appreciate your careful reading. We're talking about another layer, but one that isn't at all necessary to "getting" what happens in the book. If you choose to think in these terms, though, you can see Poseidon at work in many key scenes.  Zephyros, the wind god, takes part, and Zeus with his lightning bolts, and Hades. Most important, perhaps, is Delphinus, the dolphin, Poseidon's messenger. There is also Asherah, "she who walks on the sea." And there are the African gods of Gullah folklore – and the mythic elements of Gullah folkways themselves.
            ME: So there's the mythic aspect of "Untying the Moon," and I see from the events page on your website (www.ellenmalphrus.com) that you spoke on a panel in Raleigh recently about the "literary healing" in the novel and have been asked to talk about "strong heroines at crossroads" in Nashville next week.  Are there other ways for readers to engage this book?
            EM:Absolutely.  For starters, in the ten weeks following the book's release I'll be at some two dozen book-related events, many of them speaking engagements, where I'll talk about aspects of the novel ranging from road trips to dolphins to PTSD to coastal conservation to wanderlust to abusive love to Gullah-Geechee folkways to marlin fishing to the function/dysfunction of families.
            ME: Sounds like that "wandering bone" will come in handy with the busy book tour ahead. Are you up for it?
            EM: Yes ma'am.  I'm ready to roll.
            ME: Pat Conroy has written the foreword to your book, where he tells the story of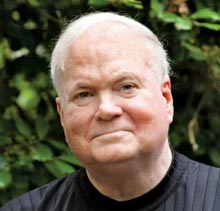 how you two – oddly enough – met in Maine. He also discusses your shared adoration of your mentor, the late James Dickey. Along with Conroy and Dickey, I'm wondering what other writers have influenced your work?
            EM:James Dickey, yes indeed, and his insistence that a writer have guts enough to dance with the dark side that's part of all our makeup – to explore those nether regions of self and life that we suppress at Sunday School and Junior League. Conroy, yes – the man of the hour – who shows us that "less is more" ain't got nothin' on "more is better." Whose lush prose in praise of the Carolina Lowcountry is as good as it gets. Nobody does it better.
            Other? Many people have influenced my writing – more than I could articulate (or am likely conscious of) – but some of the more important are the Italian writer Alessandro Baricco (Silk, Ocean Sea), early Cormac McCarthy (Suttree, for example), Jim Harrison, Terry Tempest Williams. If you've read and studied Southern Literature, there's no way around Faulkner. When I was a little girl I loved Robert Louis Stevenson.  Still do. Also, a major influence is the oral tradition of storytelling and storytellers, beginning in childhood with my mother. The shape-shifting narratives of Native American writers (N. Scott Momaday, for example) – and of course the Gullah-Geechee storytelling traditions of my Lowcountry homeland – are key.  I'm a Southerner – storytelling is in my bones.
            ME: "Untying the Moon" is coming out of Story River Books, Pat Conroy's fiction imprint with USC Press. Could you say a few words about Story River? What was it like to work with our mutual friend, the indefatigable Jonathan Haupt?
            EM: I could say many words about Story River and Jonathan Haupt, but they would sound so mushy that even you, dear Margaret, would find them mawkish. Pat Conroy's brain child to bring the best writers with a South Carolina connection to "a reading public overwhelmed by the sheer quantity of product and noise" has quickly grown into an enterprise of such magnitude that even the energized Conroy, svelte new fitness guru that he is, must be "overwhelmed" himself. The caliber of work being published by Story River Books has sparked more submissions, I'd venture to say, than Conroy ever imagined.  Submissions from folks whose only South Carolina connection is that they've driven through on I-95 are piling up in the hallways of the University of South Carolina Press headquarters in Columbia.
            Enter Jonathan Haupt. Pat Conroy will be the first to tell you that the success of Story River Books is inextricably bound up in the tireless devotion and astute editorial, organizational, and all around superhuman skills of USC Press Director Jonathan Haupt. (His wife Lorene claims he sleeps from time to time, but I truly have my doubts.) The day that Jonathan Haupt said he was excited to shepherd Untying the Moon into publication was a fine day indeed for this Carolina girl.

Ellen Malphrus and Pat Conroy will launch Untying the Moon from 4-6 pm at the Heyward House in Old Town Bluffton during the Arts & Seafood Festival. This special event is free and open to the public. Wine and hors d'oeuvres will be served and music provided by Billy Hubbard and Buzz Bonds, aka The Nautical Wheelers. There will be prize drawings and a chance to win signed editions of Conroy's novels. The Heyward House is located at 70 Boundary Street, Bluffton. For more information call 843-757-6293.
Margaret Evans is the editor of Lowcountry Weekly. Read her regular column here or visit her blog at www.memargaret.com