It's 2008. Do you know what your local Arts Council is up to?
Get Your Art Out's Opportunities for Artists.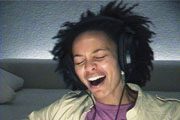 The Arts Council of Beaufort County has a new emerging artist initiative that is re-defining its role as a not-for-profit service organization. If you are interested in Get Your Art Out (which has no fees,) the sub-grantee projects, or the classes held at ACBC's Performance Space, please contact ACBC at 379-ARTS, and get a preview at beaufortcountyarts.com. No membership required.
~ The Teaching Artist Institute starts Saturday, February 2nd. Artists interested in sharing their work in the classroom can apply to attend a series of preparatory workshops lead by Lowcountry Teaching Artists, as well as a two-day workshop with a Teaching Artist from the Kennedy Center in Washington DC. Contact Colleen at 379-ARTS now to be involved. Free.
~ The Get Your Art Out series about the business of art and life as an artist is also commencing. A visual arts track begins in February, and will be followed by literary opportunities in a partnership with Iodine Literary Projects. Artists, tell us who you are. 379-ARTS. Free.
~ Tracye Faulkner Stormer's "I Did It!" Bookfestival is a celebration of self-published authors on March 29th. There is a table fee, and she is now accepting registrations from authors who would like to be involved. soabproductions@hotmail.com.
~ ACBC's got the space, at 1111 Boundary St. in uptown Beaufort, for these art happenings too:
• Storytelling with Puppets ~ by Yostie, Beaufort County's premier puppeteer, Monday, January 14, 2008; 4-5:30pm; $10. Register by calling Yostie at 341-2338.
• Jennifer Kassing-Bradley offers Open Studio Watercolor Classes every Tuesday; 4:30-6:30pm; $10, drop-in. 838-1229.
• Thursday Pottery Classes with Trevor Foster, Jan. 24-Feb. 28,10am to Noon, Hand-building & Sculpture; 1pm to 3pm, Intro & Advanced Pottery;
6pm to 8pm, Intro & Advanced Pottery. Each class is $110, due by first class; clay sold in 25# increments, at $1/pound. 803-632-1039.
• Southern Circuit Tour of Independent Filmmakers #4 of 6: Apparition of the Eternal Church by filmmaker Paul Festa, Fri. Feb. 1st, 7:30pm ~ at ACBC's Performance Space, 1111 Boundary St. $7 at the door.