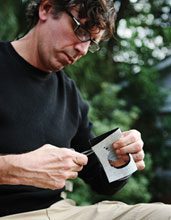 Silhouette artistry and storytelling are in Clay Rice's DNA. His grandfather, Carew Rice, was described by poet Carl Sandburg as "America's Greatest Silhouettist," and he traveled the world, sharing his mesmerizing cutouts with delighted customers. His hauntingly beautiful landscapes of the South are still sought after by collectors far and wide.
Pat Conroy described Clay Rice, himself, as "a great talent who combines soul and passion." Following in his grandfather's footsteps, Clay has developed a nationwide fan base, traveling the United States doing silhouette cutting and book signing events. Families flock to this unique artist to watch him create his keepsake silhouettes, listen to his stories, and have him sign copies of his award-winning children's book, The Lonely Shadow. Each profile silhouette takes Clay about one minute to make, and he estimates that in his 32-year career, he has cut over 900,000.
Clay's work has been featured in Country Living, The Washington Times, The Atlanta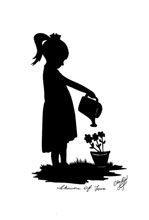 Journal Constitution, and Cookie Magazine, and has appeared in the CBS series Army Wives. He is the recipient of the Moonbeam Children's Book Award and the IPPY Award for Children's Book of the Year. His landscape scenes and children's illustrations are sought after by collectors worldwide, and his work is on permanent display at the South Carolina State Museum.
Clay Rice will be make a special appearance at NeverMore Books on Wednesday, September 7th from 3 – 6 pm. To make an appointment, please call 843-812-9460. NeverMore Books is located at 201 Carteret Street in downtown Beaufort. www.nevermorebooks.com