In June 2005, retired Marine Sally Drumm set out to create a memoir-writing program for military people.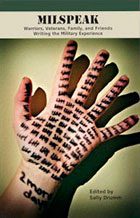 Four years later, Milspeak Creative Writing Seminar participants' work is collected in MILSPEAK: WARRIORS, VETERANS, FAMILY, AND FRIENDS WRITING THE MILITARY EXPERIENCE. Included are poetry, essay, and memoir by established authors who assisted in developing the workshop and mentoring writers, among them Michael Kobre, Dinty W. Moore, Richard Peabody, and Rebecca McClanahan. Also in this hefty 474-page anthology published by Press 53, editor Sally Drumm provides readers with the workshop story as it unfolds parallel to her own search for home and stability following a twenty-year military career and assignment of a 60% service-connected disability rating.
Each of MILSPEAK's 58 selections is a carefully crafted reminiscence, a completed piece of a larger personal history, the telling of a particularly eventful moment, a personal, cultural and historical record, and a work of art. Due to the traditional silence concerning military life, Milspeak writers' stories are often difficult for them to share and some are shared for the first time in this collection. Milspeak writers, their friends and mentors come together in MILSPEAK to share their understanding of the power of writing to heal wounds of memory and to broaden civilian understanding of military life.
MILSPEAK debuted July 4, 2009. On July 23, 24, and 25 in Beaufort, SC, readings from the anthology will be directed by Dr. John Blair and staged by the Rogues & Vacaboundes Players, each night from 8-10 pm at the USCB Performing Arts Center at 801 Carteret St., Beaufort, SC, with a reception and book signing with the writers each night. Admission is free.
For more information, contact postmaster@milspeak.org.