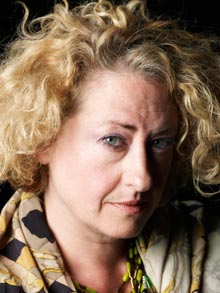 If you want to write crime novels but you got your literary start as a travel-news columnist and chick lit author, you might do what Serena Mackesy did, take on a pseudonym and live the life of Alex Marwood. Alex hails from South London and will be in the Lowcountry on November 19
th
as the guest author for the USCB Lunch With Author Series. Speaking at the Sea Pines Country Club, Alex will share why Stephen King describes her books as "scary as hell." Her first book,
The Wicked Girls,
won the coveted Edgar Award for 2014 and with her second crime novel,
The Killer Next Door,
published this fall, there's no doubt about Alex's genre: it's scary crime novels.
            The Killer Next Dooris a tightly-paced thriller that will leave you questioning just how well you know your own neighbors and questioning what they are doing behind closed doors. Right from page one you start questioning how these six individuals found this hotel that demands no lease, no credit check, and the rent paid in cash. 23 Beulah Grove is a last resort for its six residents. There is Cher, a runaway from social services, and Gerard, a recently divorced father who keeps to himself. Vesta, the oldest and longest-standing tenant, lives in the basement apartment, while quiet Thomas inhabits the top floor. Striking Hussein, a political refugee from Iran, tries to forget the horrors of his former life; and Collette, the newest resident, runs from a past that seems to inch increasingly closer. Presiding over them all is the obese, lecherous landlord who has no qualms about taking advantage of their vulnerability with frequent rent hikes and unsafe living conditions.
            Secrets and regrets abound at 23 Beulah Grove and its residents are content enough to keep to themselves. But when a shocking and deadly accident occurs one hot summer night, the residents are forced into an uneasy alliance. They all desperately want to protect their anonymity, but little do they know that there is a killer disguised among them who has chosen his next victim and will go further than any of them to protect his own secret. Unnerving and unexpected, The Killer Next Door will keep you turning the pages late into the night until its very end. Beware: you'll find more than one skeleton in the closets of this apartment building.
            Alex Marwood has a whole set of romantic comedies under her real name, Serena Mackesy. She says she has worked as a temporary secretary, been an English teacher, a lexicographer, a crossword editor, a door-to-door salesperson, a journalist and travel writer contributing columns and features, mainly to London's Independent. She says, "I still keep my hand in a bit. The adrenalin rush of writing at speed is very good for the brain."
            Her antecedents are largely Aberdonian Scots, London Irish and Welsh. Her great-grandmother came from a Yorkshire family who still live in the same place they were recorded as living in in the Domesday book. Like the Wattestones in Simply Heaven, they are chiefly notable for never having collected a title in all that time. In a spooky coincidence, Alex shares this family name…
            Both her grandmothers were successful novelists. Her maternal grandmother was the multiple-prizewinning Margaret Kennedy; her novel, The Constant Nymph, was the biggest bestseller of the 1920s and was most recently published by Virago. Her paternal grandmother wrote what was then referred to as "housemaids' novels" – I guess the equivalent of what's equally patronisingly referred to as "chick lit" these days – under the names Leonora Starr and Dorothy Rivers. I am equally proud of both of them. Margaret Kennedy is about to be relaunched in the UK.
            Reservations are necessary to attend the noon luncheon on Wednesday, November 19th at the Sea Pines Country Club. Call Jo Ann Kingsley at 843-521-4147 or email at kingsley@uscb.edu. All-inclusive price is $42.