NeverMore Books, in partnership with the nonprofit Pat Conroy Literary Center, will host an evening with award-winning writer and Gold-Star Daughter Karen Spears Zacharias, author of The Murder Gene, on Tuesday, October 4, at 5:00 p.m. This free event will be held at NeverMore Books (910 Port Republic Street) with books available for sale and signing. Please call NeverMore to reserve your seat: 843-812-9460. The author conversation will also be live-streamed on the Conroy Center Facebook page.
About The Murder Gene:
As the soft-spoken, highly intelligent son of missionaries in Morganton, North Carolina, Luke Chang gave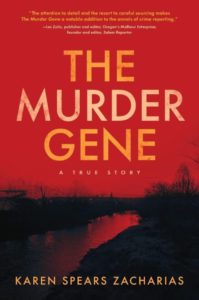 no indication of the killer he would become. But after hacking into a teacher's computer at his school, a stint in the Marines was his only option. As a young recruit, Luke was taunted for being a virgin who didn't cuss, drink, or smoke pot. That all changed when Luke met Casey Byrams, a fun-loving musician and fellow Marine from Cullman, Alabama. Their friendship set off a series of events that would eventually lead Luke to Pendleton, Oregon, where he brutally murdered nineteen-year-old Amyjane Brandhagen in August 2012. When Luke attempted to kill another woman almost a year later, Pendleton Police knew they had a serial-killer wannabe on their hands.
Some forty years prior to Amyjane's murder, Luke's maternal grandfather, Gene Dale Lincoln, murdered a young Michigan woman and attempted to abduct a twelve-year-old girl. The similarities between the violent actions of grandfather and grandson compels the question: Is there such a thing as a murder gene?
Praise for The Murder Gene:
George Singleton, author of You Want More, says, "Written with compassion and insight, The Murder Genecomes off as a cross between Forensic Files and In Cold Blood. I love this book."
Bob Welch, author of Boy in the Mirror writes, "In a world of dime-a-dozen crime stories, Zacharias unearths one like no other I've read. This exhaustively researched book is deep in its linking of two murders to nature as well as nurture, wide in its piecing together thousands of pieces to create a single puzzle, and chilling in its reminder that evil, unfortunately, abides. The result is a book that will make you reconsider the insidiousness of murder in an all-new way."
Karen Spears Zacharias is an award-winning author of numerous books, both fiction and nonfiction. A former crime beat reporter, she has taught journalism at Central Washington University, and her work has been featured on NPR, CNN, and Good Morning America. Her op-eds have appeared in the Washington Post and the New York Times. A Gold-Star daughter, Karen and her husband Tim make their home in Deschutes County, Oregon.
Learn more about NeverMore Books at www.nevermorebooks.com. Learn more about the nonprofit Pat Conroy Literary Center at www.patconroyliterarycenter.org.