The Society of Bluffton Artists presents "The Lowcountry Palette" a collection of newly created oil and watercolor paintings by noted local artist, Terry Brennan. This enchanting exhibit will be on display now through Nov. 30 at the SOBA Gallery.

(On our cover: Oysterman, by Terry Brennan.)
            Terry is a self-taught artist whose love for painting is shown in his serene landscapes that draw the viewer in with a calm sense of place. He says, "My favorite themes are Lowcountry marsh and waterfront scenes. Capturing the vivid and ever-changing colors of the marsh and sky is a constant challenge for me – but one I welcome. With each painting, I strive to achieve a realistic and inspirational image that evokes the emotions and mood of a singular moment in time." He points out, "My greatest enjoyment comes when an art patron expresses an appreciation for the compositions I've created."
            Following a 35-year career in the utility industry, Terry and his wife moved from the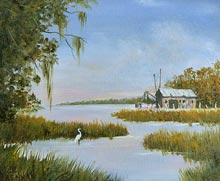 Chicago area to Hilton Head, where he began taking a series of workshops from noted artists including Tom Lynch, Irving Shapiro, and Tony Couch. Terry has a studio in his home and welcomes visitors by appointment. His work can be seen in several local galleries and has exhibited in six one-man shows. He has sold over 500 paintings and created many "commission paintings" over the past 15 years. He has contributed his time to the local arts community serving on the Board of Directors and as President of both the Hilton Head Art League and the Society of Bluffton Artists.
            The public is invited to an opening reception to meet the artist from 5 – 7 pm, on Friday, November 7, at the SOBA Gallery. Enjoy refreshments, "The Lowcountry Palette," and the work of over 100 other member artists.
            For more information visit www.sobagallery.com or call 843-757-6586.