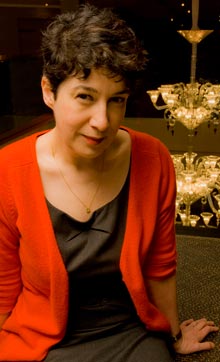 It's definitely Vive le France! for the opening of the USCB Lunch With Author Series on Thursday, October 11, 2012 when Joanne Harris takes us to the village of Lansquenet, France for the sequel to the international bestseller Chocolat. The new book is Peaches for Monsieur Le Curé (American version, Peaches for Father Francis) and Harris is making Hilton Head Island part of her whirlwind tour of England, Australia, New Zealand and South Africa.
In Peaches, the characters Vianne and her daughters, Anouk and Rosette are blown by the changing summer wind back to the picturesque village of Lansquenet eight years after the Chocolat story. In the interim they have been living in Paris in The Lollipop Shoes novel. Lansquenet has changed little – the cobbled streets, the whitewashed church, the disused tanneries along the river – all are just as they always were. But in Les Marauds, a community of Moroccans has arisen, with women veiled in black, the scent of incense, spices, kif and mint tea, and facing the church, on the far side of the Tannes, a minaret. It's Ramadan, August, 2010, just before the French government banned the wearing of the niqab, the Islamic face-veil.
When asked about the frequency of references to the niqab in Peaches, Harris replied, "It's interesting that on one hand it's such a stark image of isolation; on the other it's a very small piece of fabric to have caused so much controversy. The veil has been so many things to so many people over the years: a symbol of oppression, a sign of devotion, a flag of political protest. In France, a country that prides itself on its ideals of freedom and equality, it has been banned."
Joanne Harris was born in Barnsley, England to a French mother and an English father. She was a teacher for fifteen years during which time, she wrote three of her twelve novels and watched over the film making of Chocolat with Juliette Binoche and Johnny Depp. She has also written a collection of short stories and two cookbooks and is published in 40 countries, winning both British and international awards.
Sand dunes and ocean will be part of the Harris luncheon scene at the Shore House of the Omni Hilton Head Oceanfront Resort. Lunch will be served at noon followed by her talk, Q&A and book signing. Books are available for purchase at the luncheon. Reservations are made at kingsley@uscb.edu or 843-521-4147 for the all-inclusive luncheon priced at $42.
Joanne Harris opens the 2012-2013 USCB Lunch With Author Series with an international flavor but the following luncheons are all USA with authors from south of the Mason-Dixon line being featured:
Wednesday, November 7, 2012 – Dataw Island Club Carolina Room, Beaufort, Claire Cook will talk about her ninth novel, Wallflower in Bloom. You'll remember her New York Times bestselling novel and movie Must Love Dogs.
Wednesday, December 5, 2012 – Sea Pines Country Club, Hilton Head, Bret Lott celebrates his new literary page-turner, Dead Low Tide, which received raving praise from Pat Conroy who said "Bret has written a literary thriller of the highest order."
Thursday, January 17, 2013 – Dockside Restaurant, Port Royal, SC, Dr. Robert Davis will erase many nutrition myths when he talks about his latest book, Coffee is Bad good for You which is a slender, handy guide to health and diet claims.
Thursday, February 7, 2013 – Hampton Hall Clubhouse, Bluffton, Karen White returns with her summer blockbuster, Sea Change, set on St. Simons Island, which delves into a surprising family/island history. After the Rain comes out in January and returns the reader to small town Walton and its mayor with six children who sees romance in the new mystery girl in town.
Thursday, March 21, 2013 – Country Club of Hilton Head, Dorothea Benton Frank and Pamela Redmond, two New York Times bestselling authors on one podium! How good is that? Dottie's latest book, Porch Lights, goes back to Sullivans Island as the repository of family strength and magic. Pamela's latest novel, The Possibility of You is a wonderful story of three women whose lives intersect across generations.
Thursday, April 11, 2013 – Moss Creek Clubhouse, Heidi Julavits introduces The Vanishers, an astral detective thriller defined as an affecting exposition of familial and female dynamics, and a hilarious satire of academic politics.
All luncheons begin at noon, followed with the author's talk, Q&A and book signing. Each luncheon is $42. Purchase of the full series at $270 receives an 8% discount as well as the same discount (8%) on all 'special luncheons'. Reservations are made at 843-521-4147 and kingsley@uscb.edu.