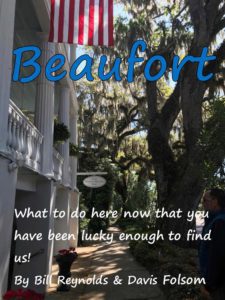 There's a new tour guide in town, and it's a book. Beaufort: What to do here now that you have been lucky enough to find us! is the brainchild of two human tour guides, Bill Reynolds and Davis Folsom, who spent their Covid lockdown putting it together.  For over a decade, Reynolds, owner of Beaufort Tours, has been offering van and golf cart excursions in and around town. Folsom, a retired USCB professor, offers walking tours through Reynolds' company. The two focus on area history – especially the Civil War and Reconstruction – along with film, Pat Conroy, and all things uniquely Beaufort.
LCW: How did you come up with the idea to write this book?
Last year, Davis went to a Books Sandwiched In talk by the authors of 100 Thing to do in Charleston.  In Q&A someone asked if they were going to do one for Beaufort.  The author responded, "I don't think we could get much beyond ten."  The audience was silent but someone whispered, "Bless his heart."  Bill quickly agreed that we could easily come up with close to 100 fun and unique things to do here.  Within a week we had a list and started writing and interviewing people.  Then Covid hit.
LCW: How did you decide what to include?
It just evolved naturally.  Having been local tour guides for years, we have a sense of what people want to know. We both love Beaufort, the Lowcountry, people, history, culture, and surprising variety of food and event choices for a small town.  Then we added special places, and activities visitors are unlikely to find elsewhere. As one tour manager said, the most frequent question is "What is there to do here beyond going to the beach?"  Our book addresses that question with enthusiasm!
LCW: "What to do here now that you have been lucky enough to find us!"  Explain that choice?
People must want to find Beaufort or just be lucky!  Often, we correct visitors who think they are in Bowfort!  We had a couple who booked our tour and a B&B in Beaufort, NC.  We point to the hole in Freedom Park where the Christmas tree goes and talk about Night on the Town in December. Beaufort is a real community that celebrates together. Count the number of festivals we have each year tied to the seasons and bounty of the Lowcountry.  Shrimper Bubba Von Harten told the story of the new teacher who asked a child to name the four seasons.  The child naturally replied "fish, shrimp, oysters, and crabs."
LCW: What do visitors ask about?
Since the history of Beaufort is tied to water, we explain the importance of a natural deep-water port, the Intracoastal waterway, and the rhythms of life here.  Occasionally, we explain "Beaufort time," how you can always be 20 minutes late because you got stuck on the bridge.  In our guidebook and on tours we explain "pluff mud," the importance of saltwater estuaries, the fact that there is always "dinner out there."  Seriously, one tourist asked, "Are oysters hard to catch?"  We have three entries discussing catching, where to buy, and where to eat local seafood.
Both in the book and on tour we provide a lot of local history. Visitors rarely know how unique Beaufort was in Civil War/Reconstruction.  Relatively few people have heard of Robert Smalls or know about the amazing history of Penn Center.  Often, we describe Heritage Weekend to help people understand how the Rehearsal for Reconstruction that took place here continues to affect life in the Lowcountry today. We also introduce newcomers to Dr. Marlena Smalls, Anita Singleton-Praither, LyBenson's Gallery, and the Gullah and Woodlands Festival.
LCW:  In your book and tours do you also talk about Beaufort and films?
We always point out film scenes and anecdotes about actors who worked here. While passing the Rhett House Inn, Bill mentions that this is where famous Hollywood stars have stayed, including Barbra Streisand, Nick Nolte, Blythe Danner and her daughter Gwyneth Paltrow.  One time, a gentleman on the tour once announced, "last night I slept in Gwyneth Paltrow's bed!" To which Bill asked, "Was she still in it?" He responded, "Sadly not!" Bill replied, "Well, you missed her by about 35 years…"
Amazingly, it was one of our customers who pointed out that the running across America scenes in Forrest Gump, including the Woods Bridge and Chowan creek (Welcome to Mississippi) scenes, were done by Tom Hanks' brother, Jim. She stated, "I knew it. The runner had longer legs than Tom. Bill and I both confessed that we had not studied the runner's legs!
When pulling up alongside the USC-Beaufort Performing Arts Center, we say that it has been in three movies, Something to Talk About with Julia Roberts, the newest Beaufort movie Stars Fell on Alabama, and in Forrest Gump it was the Gump Medical Center in Bayou Le Batre, Alabama. One day, a mother and daughter, who had been totally silent for the entire tour, burst out laughing hysterically and uncontrollably!  When asked why they are laughing so hard, they responded, "We're from Bayou Le Batre but until this moment we didn't know where the Gump Medical Center was…!"
LCW:  Some of the entries have humorous titles.  Explain?
Sure. "How long can you tread water?" is about the rowing club which has a requirement that participants be able to tread water for at least two minutes. "Tree Hugging Allowed" refers to the Lady's Island Club tree walk which includes an oak tree wrapped around a palm tree.  "Go Ahead and Pick it Up" describes hands-on exhibits at the Maritime Center on Lemon Island.  "Dancing in the Street" conveys the wonderful, free music gatherings on Paris Avenue in Port Royal. "Beaufort's Sweet Tooth Fairy Walk" is a guide to mid-afternoon treats within walking distance of the People's Bank clock.
LCW:  Why did you also publish an online edition?
The online edition allows visitors to explore ideas and suggestions before they get here. At least one local inn has added our book to their web site. When people find how much there is to do here, they will likely stay longer.
It also targets visitors and newcomers who are more comfortable with an electronic format, allows us to update material as things change, and provides easy access hyperlinks. We envision multiple audiences for our book. Obviously, visitors but also our military community, and people thinking about moving here. The last entry in our book, "Shopping for Retirement," describes some of the opportunities to for new retirees.
Our book is like the helpful neighbor who explains where things are and what not to miss.
LCW: Sounds like you two have had fun writing this book.
Absolutely.  It allowed us to explore and then share our joy living here. For us, coming to Beaufort was like finding the pot of gold at the end of the rainbow. Friends who have read our book universally have said "Makes me want to move there."  Be careful who you share it with!
'Beaufort: What to do here now that you have been lucky enough to find us!'  is available at Beaufort Bookstore, Grayco, McIntosh Books, the Beaufort Visitor Center and online at Amazon Kindle.