Hilton Head Island-based suspense novelist Kerry Peresta will give an author talk and reading from The Rising, the second book in her Olivia Callahan series, at the nonprofit Pat Conroy Literary Center (601 Bladen St.) on Thursday, July 21, at 6:00 p.m. This event is free and open to the public. Books will be available for sale and signing. Seating is limited; please call to reserve your spot: 843-379-7025.
About THE RISING
"In The Rising, Peresta's stunning writing and multi-layered depictions take readers into the heart of a woman struggling to reclaim her memories and her life. Hooked from the first page, I was right there with her, rooting for her every terrifying, twisty step of the way!"–Susan Crawford, author of The Pocket Wife and The Other Widow
"Peresta's second thriller is as riveting and well-plotted as the first. Among the many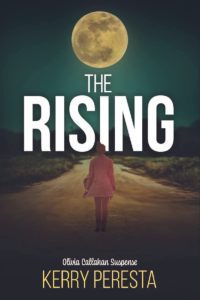 pleasures in this taut and fast-paced novel is the protagonist herself. Because the reader gets to see Olivia Callahan from multiple perspectives, this intriguing and potentially unreliable character has a depth and complexity that transcends the genre. The multi-layered narrative spans several time periods in Olivia's fractured life, and all are rendered in clear and vivid prose. An evocative, moving, and satisfying read."–Lori Robbins, author of On Pointe Mystery Series, Silver Falchion Winner for Lesson Plan for Murder
Kerry Peresta is also the author of The Hunting (2013) and The Deadening (2021). She spent thirty years in advertising as an account manager, creative director, copywriter, and editor. She began writing full-time in 2009 as a humor columnist for a daily newspaper, and in 2012, she moved to the Baltimore area and became chapter president of the Maryland Writer's Association. Currently, Kerry is a member of Hilton Head Island Writers Network, the Sisters in Crime organization, South Carolina Writers Association, and a guest instructor for the Pat Conroy Literary Center. Kerry and her husband Jim have lived in Hilton Head since 2015. She has an ever-expanding flock of grandkids and two annoying cats.