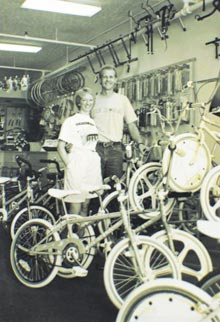 Lowcountry Bicycles Celebrates 25 Years in Beaufort
"I thought of that while riding my bicycle."
– Albert Einstein, on the Theory of Relativity
I'm sitting at the bar at Emily's Restaurant in Beaufort trying to conjure up a vision. Now, the people who know me will not find this at all unusual – sitting at this bar, that is. The conjuring of the vision is a bit different: I'm trying to imagine what this room looked like a quarter century ago sans bar and filled to bursting with bicycles from floor to ceiling.
John and Jenni Feeser were new to Beaufort by way of the upstate where John ran a cycle shop until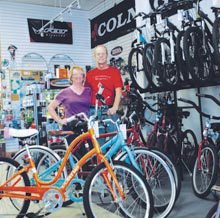 he "got the crazy idea to start my own." The young couple knew they wanted to be on the coast and Beaufort seemed ideal with loads of possibility.
"We thought at that time that Beaufort would turn into a college town," says John.
"We're still working on that."
"Yeah, I know."
Back in the late 1980's the Feesers were optimistic that USCB would bring in the student business. The town had the potential to grow into a micro-Charleston. And there was also plenty of space available on the cheap.
"It had such a great downtown area that just seemed to be the place for the shop," John recalls. "They didn't think a whole lot of the real estate back then because there was a lot of it and nobody to rent it or buy it." He laughs at the memory.
The Feesers put together a plan and became the first clients for the town's brand new Small Business Coordinator. Then came the fun part. "Going to the banks for the loan," says John. There's still the trace of a grimace at the recollection. "Things were pretty tight back then."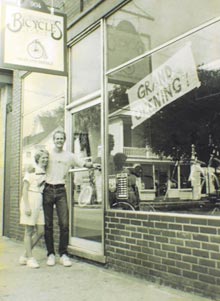 After a couple of rejections he stumbled upon the shop on Port Republic and walked into the bank across the street. The loan officer turned out to be a runner who loved the idea of a bicycle shop downtown. 25 years ago to the day of this publication date the Feesers opened the original Lowcountry Bicycles next to Emily's on Port Republic. The shop opened just before the BMX craze flamed out. Half of the initial inventory was tied up in BMX. "We were lucky to make it to Christmas," says John.
Back in the pre X-Box days kids still asked Santa for bikes (not so much these days). They made it to Christmas, then to spring and along the way the shop philosophy shifted to road bikes. At one point the tiny Port Republic shop was packed with four lines of cycles.
"You walked in and everything was hanging off the ceiling and off the walls," laughs John. "Somebody would walk in completely over-stimulated by all the colors and stuff everywhere and ask for some little gadget and I'd say, 'Oh yeah, that's right over here.' Nobody could find anything but me. That was fun."
"We were pretty crammed in there," says Jenni, "at least by the time we moved."
Eventually the shop moved to a much larger space on Lady's Island. The three of us lounge around the shop office surrounded by 25 years of photos and memorabilia on the walls. John and Jenni have raised two kids in the interim, and son Dylan grew up racing bikes and working in the shop. One of his old jerseys hangs on the back of the office door.
Twenty-five years is a lifetime in the world of small business and in a business heavily influenced by technology it might qualify as two. Or as John sums it up, "It's been a rollercoaster."
Part of the ride's been spent keeping pace with the trends, the technology and the changing marketplace. Almost from the moment the doors opened on Port Republic, the cycling world began to change and evolve and it's never stopped.
The "Real Steel" hand-built Euro-style frames of the 1970s gave way to aluminum in the '80s and
carbon fiber revolutionized the market in the 1990s. Much of the change in design and technology that swept the cycling world at that point is a direct result of cutbacks in the space program, according to John.
"A lot of young vibrant NASA engineers who thought they were going to have a career in space exploration and design went to work in the bike industry," he explains. "Suddenly they're turning out unbelievable designs on the computer and the next thing you know they're in the brochures and we're selling them on the floor."
Today you'll find the prestigious race-honed logos of Felt and Colnago on the floor along with pleasure bikes like Jamis and Electra.
"John was so excited when he got the Colnago dealership," notes Jenni.
Ernesto Colnago founded the company near Milano in1954 and his influence on modern cycling is mythic. John felt the influence as a kid following the legends of the European racing circuit in the 1960's.
"I always dreamed that I would be of that caliber," he says with a laugh.
I can't help but make a connection.
"Were you the kid from the movie Breaking Away riding around in racing togs shouting 'Bonjourno!' to all the girls?"
The Feesers break out in laughter.
"Yeah, he played me in the film. I was that kid."
The dream of racing glory didn't pan out but the dream bike – the Colnago – finally showed up.
"It's a pleasure to fit people to a high end bike," says John, "and it's really a joy to do that. That's what inspires me to sell them. They come back in after the sale just grinnin'."
But as Jenni points out, you don't have to drop a small fortune into a bike to enjoy the ride.
"When we're out riding our Electras we're feeling really good as opposed to riding a Wal-Mart bike that wobbles," she says. "One of John's philosophies throughout has been to stock bikes of quality." She points out that John's never embraced the trend of buying cheap, inferior cycles in order to slap on a private brand for a bigger profit. Every thing in the shop is carefully researched for quality. Every bike frame sold carries a lifetime warranty and John also specializes in rebuilding vintage bikes.
"I feel like if you buy a bike from us it's something you're going to keep for 20 years," says John.
HOW TO BUY A BIKE
By John Feeser, Lowcountry Bicycles
When I sell a bike the key question I always ask the customer is, "What type of riding are you planning on doing? Around the neighborhood with the kids? Fitness riding for health? Commuting to and from work? Cruising with friends? Racing? Mountain biking?" When trying to decide on what type of bike best suits you consider these questions:
– Who do you ride with?
– What do they ride?
– What have you had in the past that you liked?
– What have you had in the past that you disliked?
– What would you like to do with your new bike?
– How much money are you comfortable spending?
If you are buying a bike to ride with a group of friends buy something similar to what they ride. You will not be able to keep up with road bikes if you are on a mountain bike or cruiser. And a road bike won't do for dirt or the sand.
If you enjoyed a three speed or cruiser as a child, you may find this a fun bike again. If you disliked the road bike you bought a few years ago—perhaps a mountain bike would be better.
Get to know the types of bikes available. Road and Triathalon bikes are fast and easy to pedal on pavement. They are not as well suited for operating off the road. Some people find the "dropped" riding position difficult to comfortably maintain for a long time.
Mountain bikes are harder to pedal and slower on pavement. But they have a cushy ride, an upright riding position, and can travel easily on a wide variety of surfaces. Hybrid or cross bikes are almost as fast and easy to pedal as a road bike, while being almost as comfortable and versatile as a mountain bike. Comfort bikes are just that—comfortable. Cruisers are fun to look at and, when ridden at a relaxed pace, they are ideal for admiring the scenery, exploring the neighborhood or beach.
Above all cycling should be fun, energetic, and safe. And please, always wear a helmet.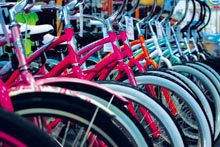 FEESER'S FAVE'S
We asked John to pick his five favorite regional
rides (within reason)
St. Helena Island Ride:  Flat, fast, and not much traffic.  Moderate to fast pace, 
35 miles. Departs every Tuesday at 6pm from the shop.
Ladys Island Ride:  A relaxed spin to Brickyard Point and back.  Moderate pace, 30 miles.  Departs Thursdays at 6pm from the shop.
Three Bridges and Cat Island Ride:  Easy to moderate pace, 25 miles.  Begins each Saturday morning at 7am from the shop.
Hunting Island Mountain Bike Ride:  This is seasonal (October-April) and features a gorgeous ride through the Maritime Forest.  Easy to moderate pace, 20 miles. Departs on Saturdays at 7am from Hunting Island Pier. 
Forks Area Trail System (F.A.T.S.) Mountain Bike Ride: Easy to strenuous, this is Disneyland for bikes at Clarks Hill, SC near North Augusta, GA. An easy day trip from Beaufort, 20 to 50 miles of some of the best Mountain Bike Trails in the Southeast.
LOWCOUNTRY BICYCLES
102 Sea Island Parkway
Beaufort SC
(Across the bridge on Lady's Island)
843.524.9585