Called the "Apotheosis of the Dance" by Richard Wagner, Beethoven's Symphony No. 7 in A major is the focus of the Hilton Head Symphony Orchestra's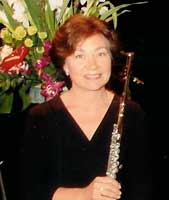 next Master series concert under the direction of Music Director Mary Woodmansee Green at Hilton Head's First Presbyterian Church on Monday, April 6, at 8 pm.The program will also be given on Saturday, April 4, at 8 pm. at Bluffton High School.
Rounding out the program will be a sparkling overture by Rossini, Griffes' impressionistic Poem for Flute and Orchestra featuring HHSO's principal flutist, Lorraine Jones and Mahler's emotional Adagio from his Fifth Symphony.
"It has been said that there's the Classical style, there's the Romantic style, and then there's Beethoven," said Green in announcing the program. "His Seventh Symphony expanded the scope of symphonic tone structure with rhythm as its core. It was popular in his day and remains a concert favorite today."
Lorraine Jones is currently the principal flutist with the Hilton Head Symphony Orchestra and the Savannah Orchestra, and flute instructor at Armstrong Atlantic State University where she conducts the Coastal Flute Choir. Born in Toledo, Ohio, she is a graduate of the College of Musical Arts at Ohio's Bowling Green State University. She has performed with the Jacksonville, Alabama, Charleston, Augusta, Greenville, and Toledo Symphonies as well as The Atlanta Pops and Piccolo Spoleto.
After writing his programmatic six-movement Sixth Symphony in 1808, Beethoven wrote the Seventh in a more traditional form and structure—completely abstract and in the standard four movements. However, the incessant, captivating, and varied rhythmic drives contribute to its popularity as the "Dance Symphony". Each movement has a particular rhythmic figure that can be found in almost every measure and has echoes of the dance and the march.
American composer Charles Tomlinson Griffes studied with the Romantic German composer Englebert Humperdinck in Berlin. After his return to America his compositional style changed, and he wrote several works in a more Impressionistic style; including his 1919 Poem for Flute and Orchestra. The piece conveys his love of Oriental Modes and the influences of Claude Debussy.
Gustav Mahler composed his Fifth Symphony during the summers of 1901 and 1902. During that time he met and married Alma Schindler, a beautiful woman about half his age. Written in 1902, the Adagietto for strings and harp is a love song to her. Rossini's first comic opera, L'Italiana in Algerie, was the first to bring him any real notice outside Italy. The Overture begins with a slow, dark introduction and gradually builds to a "Rossini crescendo", one of the composer's trademark techniques.
Concert tickets are $20, $30, and $40; tickets for the Bluffton concert are $25. Call the Hilton Head Orchestra Box Office at (843) 842-2055 to purchase tickets, or log on to the orchestra website at www.hhso.org. American Express, Master Card and Visa are accepted; tickets may be purchased at the door. Program Notes are posted on the website prior to each concert.