Bigger is better! At least that is what many folks would like us to believe. We have televisions that we cannot haul home in the SUV.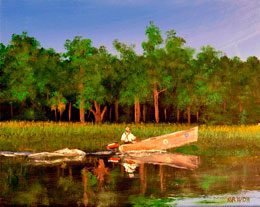 We supersize until we have to go on a mega-diet. Even in art, the trend in recent years seems to be toward large and larger. What photographer has not been repeatedly queried about how big they can print or how many pixels they are packing?
Well, the Beaufort Art Association is revolting against the BIG deal with their new exhibit, All Creations Great and Small; Great Art, Miniature Size. For the miniature show, the dimensions of the artwork will be no larger than eight by ten inches. That would be framed size so the possibilities of where one of these pieces could fit into your life are endless. How about that empty corner wall in the foyer where nothing seems to fit? Mac Roger's small painting, Fast Bateaux, might be the welcoming warmth you have been looking for. Perhaps your kitchen is crying out for one of Marge Boyle's beautiful and mouth-watering miniature photographs of her delectable homemade pies. And then there is your office: imagine your eyes breaking away from that tedious computer screen and taking in the soothing Lowcountry marsh scene depicted in Hetty Nijman's painting, Moody Marsh. Have you been looking for the perfect gift for a great friend? A miniature Laura Bricker painting or a Donna Ireton basket or sculpture might be just the ticket. Yes, with miniatures, the possibilities are endless.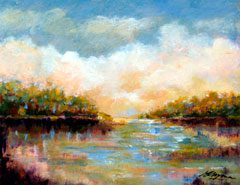 The Beaufort Art Association Gallery is a nonprofit member-supported gallery located in the beautiful, historic George Elliot House. The Association Gallery follows an aggressive schedule of changing the exhibits every six weeks. This schedule challenges the member artists to continuously create new work and offers the public fresh viewing experiences. During each exhibit period, there is a special theme show featuring one or more gallery members as well as a general exhibit open to all gallery members. Currently, there are approximately fifty-five exhibiting members working in various media. Because this exhibit, All Creations Great and Small, features all members, there will be a variety of artwork showcased including painting, drawing, pastels, photography, mixed media, sculpture and more.
The opening reception for All Creations Great and Small; Great Art, Miniature Size will be held on Friday, August 7th from 5:30 – 7:30 pm at the Beaufort Art Association Gallery, located in the George Elliot House at 1001 Bay Street. Get out on Friday to enjoy the exhibit and meet the artists. If you cannot make it to the opening reception, the show will run from August 3rd through September 12th. The gallery is open Monday through Saturday, 10:00 am – 5:00 pm.